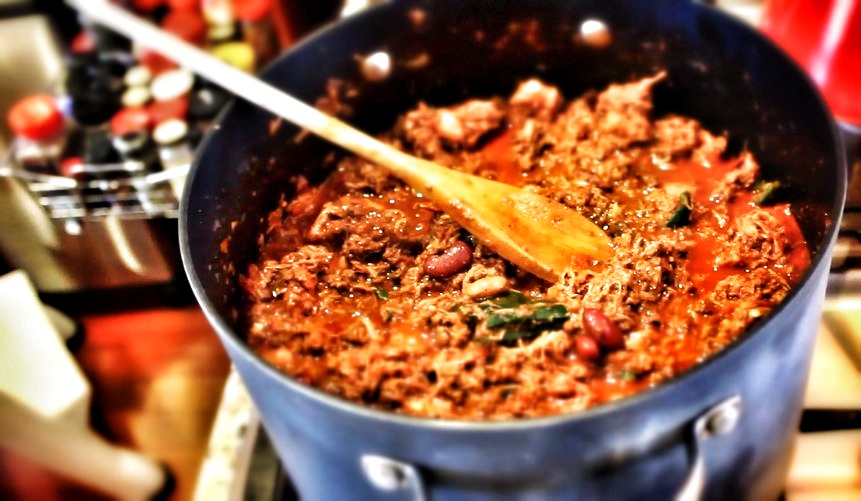 I'll be the first one to tell you I have limited experience in Chili cook offs.    But I tried my hand in a competition at my church this weekend and feel like I've come up with a trick for scoring first place in you next chili recipe competition.
Previously I posted a recipe for Third Place BBQ chili here.  Looking back to prep for my latest challenge I realized how lame it was.  Chili seasoning mix… pork loin… fresh tabasco peppers… It wasn't very authentic (seasoning mix?) or practical (have you seen fresh  Tabasco peppers at the grocery?).
A quick call to Jack got me a great tip.  "Make your own chili powder.  You'll have a better flavor profile than the store bought stuff," he advised and sent me what had won for him in the past. I took his advice and am now convinced that using a hand crafted fresh batch of chili powder is a real game-changer.  I took first place against about twenty other chili's I thought were really good too.
The Fist Place chili recipe is below but the real trick is the chili powder.  Fun and easy to make. Use those dried whole chilies you see at the store (you may want to mix and match if you cant find Guajillo, Arbol or Ancho) and toast /roast them briefly in a cast iron pan.  Be careful not to burn them and don't choke on the potent fumes.  Pull the stems and grind with cumin seeds in a blender, coffee grinder, or spice grinder.  Simple.
Try the recipe below and post in the comments how it fares for you.  It's a winner. 2 oz. Ancho Chiles – dried and roasted 2 oz. Guajillo Chiles – dried and roasted 1 oz. Chile de Arbol – dried and roasted 5 tablespoons Cumin seeds – toasted and ground 2 tablespoons granulated garlic 4 tablespoons oregano 4 tablespoons smoked paprika Toast whole dried peppers and cumin seeds in a skillet until they slightly start to brown. Let cool and grind to a powder.
Add other ingredients and mix. Yields about two cups.
[amd-zlrecipe-recipe:19]