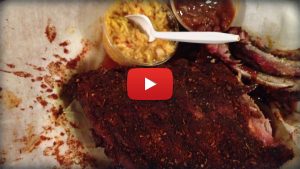 Dry ribs vs wet ribs is a big argument in barbecue.  The winner of the debate (if there can really be ANY loser when it comes to eating BBQ ribs) is – without a doubt – The RENDEZVOUS.
Memphis Tennessee is the home of the blues – some say the birthplace of rock n' roll,  Beale Street, Graceland – Sun Studios and The Peabody Hotel (love the Ducks).       And if you traveling are looking for the world's best BBQ you can surely find contenders in this great southern city.   In fact, down one aromatic alleyway is where You can find what some BBQ say are the worlds best Memphis dry rub ribs (or Memphis style dry ribs).  Dry and savory – still juicy – with seasonings on top and a puddle of vinegar below.
Walk  down this dark (just slightly scary) alleyway – just down from the elegant Peabody Hotel  and Union Ave. and you'll discover the world-famous Rendezvous… The mother church of dry ribs. Legendary Charcoal ribs they say. Watch Video of our Rendezvous
visit.
It's certainly not fancy fare but definitely World class.  You can smell the charcoal BBQ smoke as you enter the dark entrance down age old steps to the historic Rendezvous basement… There is not unusual to find people taking cell phone photos of their food and getting messy (you can eat up stairs too but make sure you take a peek at the history below).
One look inside you can see bow tied waiters with white shirts  bow ties – the same waiters that have likeley work the room for decades -some over 40 years – and on the walls is memorabilia about visits from presidents and performers alike ranging from George Bush to… Elvis and even Jerry Lee Lewis.
Charlie "Mr. Downtown" Vergos opened this place in 1948. Sadly he passed in 2010 but  some of the traditions in the restaurant and even menu items he's menu items seem to remain today.    The house appetizer is still a sausage and cheese platter.
The Rendezvous barbecue trick is roasting the slabs of ribs one to two feet directly over high heat from hardwood charcoal… For about an hour or 30 minutes per side… Then mopped with a light vinegar sauce and coated with a dusting of spices.  It's called rendezvous "seasoning" not "rub" because it's sprinkled on not rubbed in…
The seasoning is paprika based but also features whole celery seed, yellow mustard seeds allspice and coriander too – get the detailed recipe at BarbecueTricks.com search rendezvous
The now coveted dry spices were influenced by Greek roots made its way to the ribs that we are for fire roasted over a charcoal shoot
And they go through a ton of ribs-  One of the benefits of going to the restaurant in person he's being able to see the magic happen in the hustle and bustle of the smoky open kitchen…  ribs are tossed on bone side down to protect the meat –  Charcoal broiled over high heat in a retrofitted coal chute.  The fuel source is famous… 100% hardwood charcoal…   flipped after about 30 minutes and constantly mop with a mixture of vinegar and spices in the end they get a good coating of rendezvous seasoning that sprinkled on not rubbed in…  Featuring lots of Paprika some coriander Greek influences but less salt than you would expect from a barbecue rub it makes for the perfect bite–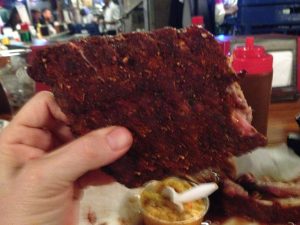 Here's a close recipe:
4 tablespoons American paprika
4 tablespoons powdered garlic
2 tablespoons mild chili powder
1 tablespoon fresh ground black pepper
2 teaspoons whole yellow mustard seed
1 teaspoon crushed celery seed
half tablespoon whole celery seed
1 half tablespoon whole allspice seeds
1 dash ground allspice
1 half tablespoon whole coriander seed
1 half teaspoon ground coriander
It's served with brown sugar and bacon baked beans and mustard tinged coleslaw…
Served on paper but with a white cloth napkin…
I ordered the large order of ribs it was about 19 dollars
And if you can't make it to Memphis you can still get a taste of rendezvous via their lucrative website at http://hogsfly.com where they ship ribs across the country overnight via FedEx…
If you can plan ahead with a group call ahead and ask about their skillet of shrimp
The restaurant is closed on Sunday so be careful how you plan your weekend…
[amd-zlrecipe-recipe:24]