Homemade McRib
Yield 2
When you're out of McDonald's Limited time you can turn to this trick for de-boning your ribs for a succulent BBQ sandwich.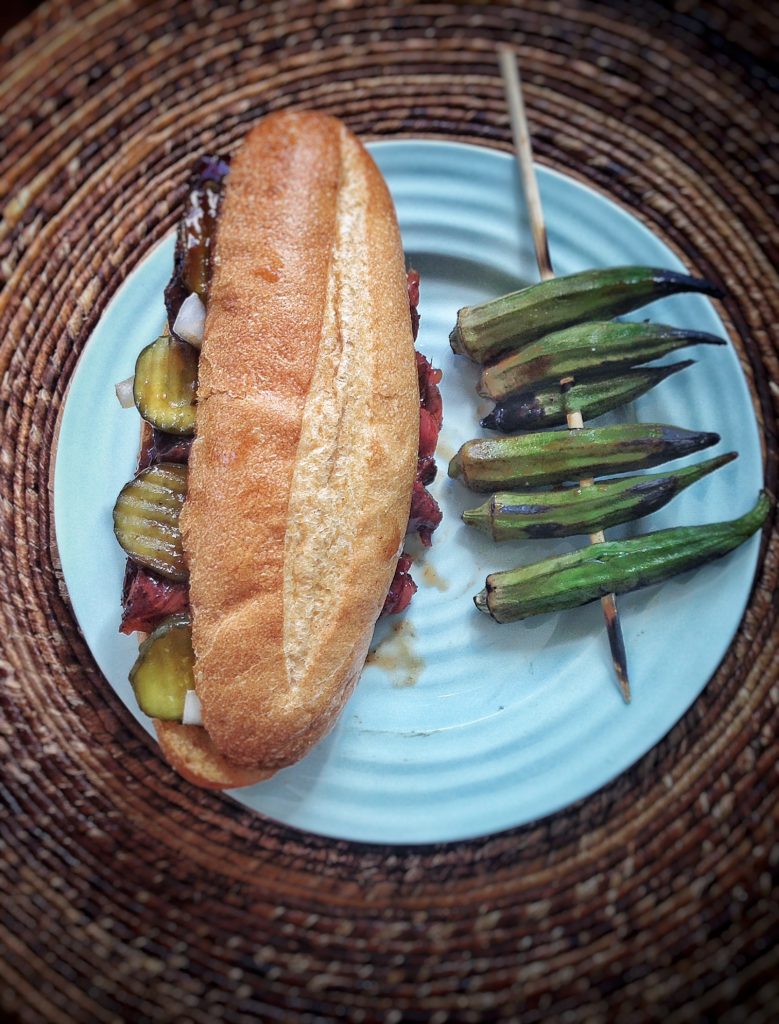 Ingredients
INGREDIENTS:
1 Slab of pork spare ribs (avoid "shiners")
2 French rolls
Hamburger Dill Pickles
½ small onion, slivered
2 cups BBQ Sauce
1 cup dry BBQ Rub
Instructions
So how do you remove the bones?:
Peel the membrane off the bone side of the slab by loosening the tough tissue at one end with a blunt knife and then grasping with a dry grip of paper towel. The trick is being able to grasp as much of the membrane end at once. It may take two peels but should come of clean.
Next, gently score the surface of the slab where the bones meet the meat. This will allow the bones to "fall off the meat" or vice versa. You want to get the meat to pull away from the bones but not totally fall off and break apart.
Divide the slab into two halves and smoke at 300 degrees Fahrenheit for 90 minutes. Or sue 3-2-1 method (3 hours at 225, then 2 hours wrapped in foil, last hour undrapped to sauce and tighten up)
Wrap tightly in foil and add ½ cup of liquid like beer – I used a domestic dark beer - or cola
Cook an additional one to two hours at 300 degrees until bones protrude at the ends.
Add sauce and grill on high heat to char (preferred method) or dredge in sauce (traditional method) and place on toasted roll.
Add slivered onions and hamburger dill pickles.
What's This Here BBQ Sauce2 Tbs vegetable oil1 large clove of garlic, minced1 medium onion, minced1 Chipotle pepper, minced1 tsp chili powder1/4 tsp CayWorcestershire sauce½ tsp fresh ground black pepper2 tsp Texas PeteHeat the oil in a deep sauce pan and add garlic and onions until they soften. Add all peppers and heat for 20 seconds before stirring in the remaining ingredients. Cook on low heat for 20 minutes until thickened. When cool, strain out onion and garlic "chunks" if desired.enne pepper1 cup ketchup2 Tbs Dijon Mustard (Grey Poupon)5 Tbs dark molasses3 Tbs
Recipe by Barbecue Tricks at https://barbecuetricks.com/homemade-mcrib/