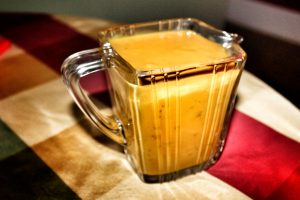 South Carolina Mustard Sauce
Also known as "Carolina Gold" this tangy and sweet sauce uses basic yellow mustard as the key ingredient. Serve this sauce warm, on the side, with pulled pork or mix below amount directly with one shredded/pulled Boston butt.
Ingredients
1 small white onion, minced Small 2 Tbsp butter1 clove of garlic, minced1 cup yellow mustard 3/4 cup brown sugar3/4 cup pickle juice or cider vinegar 1 tsp kosher salt1 tsp fresh ground black pepperHot sauce to taste
Instructions
Saute'' garlic and onion until translucent. Add mustard and remaining ingredients and simmer for ten minutes until thickened. Strain out onion pulp (optional).
Recipe by Barbecue Tricks at https://barbecuetricks.com/south-carolina-style-mustard-bbq-sauce-recipe/