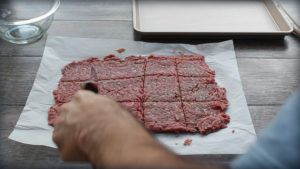 White Castle Slider Recipe
Yield 12 Sliders.
Ingredients
1 lb ground beef½ cup dehydrated onions1 cup warm waterSalt & pepper to taste12 American cheese slices12 dill pickle slicesMustard12 small slider buns
Instructions
Roll out ground beef very thin - to approximately ¼" thick.
Cut into 2.5"x 2.5" squares and use a straw or wooden dowel to put 5 small holes in each. (Some shrinkage will occur in cooking.)
Freeze patties for a minimum of 1 hour. This can be done several days in advance.
When ready to cook, hydrate onions in 1 cup warm water
Heat grill to medium-low. Using a cast iron skillet or grill sheet pan, spread hydrated onions over bottom, and top with frozen meat squares. Place the bun half on each and top with remaining bun to steam. Grill for approximately 5-6 minutes. Turn once and top with cheese.
Build with mustard, pickle and Firecracker Ketchup (recipe below). Top with remaining steamed bun and enjoy!
Recipe by Barbecue Tricks at https://barbecuetricks.com/white-castle-slider/