Here's a fun way to celebrate the All American BBQ on a patriotic holiday.. a fun trio of BBQ sauces done up in flag wavin' Red – White – and Blue.  We have a great red sauce (Almost Award Winning) here – but there wasn't a VIDEO RECIPE FOR THE WHITE OR THE BLUE BBQ SAUCE – so we put one together HERE on YouTube.
First the WHITE SAUCE:
Big Bob Gibson's is a big name in BBQ especially when it comes to this white sauce…. An Alabama Barbecue traditional ce uses Mayonnaise at it's core and Bob Gibson of Decatur, Alabama is the guy who launched it back they say in the 19-20's
Youll want to apply this only at the very end of your grilling or smoking. It will breakdown and separate if it is heated too long.
It's tangy and thinner than you might think – when grilling chicken; brush lightly over the chicken during the last few minutes of grilling.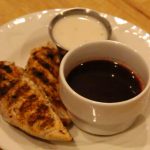 Here's what you'll need for White BBQ Sauce
3/4 cup mayonnaise
1/3 cup apple cider vinegar
1/4 cup lemon juice
1/4 cup apple juice I tried corn syrup here
1 tablespoon powdered garlic
1 tablespoon prepared horseradish
1 tablespoons coarsely ground black pepper
1 teaspoon mustard powder
1/4 teaspoon salt
1/2 teaspoon finely ground cayenne pepper
Place all ingredients in a very large blender or food processor. Blend for 1 minute, or until thoroughly mixed and sauce is smooth. I used a bullet blender – remember it's almost like a mop – use it to slather on in the very end of the cooking process but you may first want to try it as a dip – again mainly for chicken…
Some people also like to use it a a base for cole slaw and potato salad….
Next THE BLUE SAUCE is unlike anything you've tried before.
This version uses dried blueberrys because we couldn't find fresh at the time… and True it's not really a Smurf blue color… and that's probably a good thing. The color is subtle (in fact hard to see here). But the blueberry is defiantly in the flavor.
Perfect for beef or chicken. A side of blue potatoes?
The added bonus is there is a nice hint of blue in the sauce and it's a great conversation starter.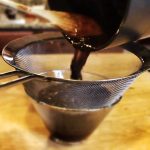 Ingredients
2 cups water
1/2 cup tomato catsup
1/2 cup dried blueberries minced
1 tablespoon balsamic vinegar
1 tablespoon worcestershire sauce
1 teaspoon sriracha
1 teaspoon liquid smoke
1 teaspoon Dijon mustard
Salt and pepper
Add water, blueberries and vinegar to sauce pan and simmer for five to ten minutes.
Add remaining ingredients and simmer on low heat until desired thickness.
Season to taste with salt and pepper. Strain out blueberry pulp using spoon to force out additional liquid. Discard MOST pulp.
If you want to try a fresh blueberry version ——-from blueberry council.org
Try with 1 to 2 cups fresh (or frozen blueberries) blended in a blender first – let me know in the comments
·
Team this Blue sauce up with our almost award winning red sauce and a unique Alabama White sauce and you have a RED, White, and Blue patriotic BBQ.
For more tips tricks and other fun stuff head over to www.barbecuetricks.com