OK, don't hate us for bucking tradition – even though this is pretty much kicking tradition in the chin!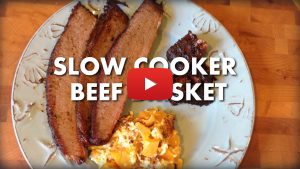 Here's the world's easiest Texas style beef brisket.  It just works.  And if you don't have access to the thousand dollar smoker rig to do it like a true pit master this might be the way to go.   Dorm room.   Tour bus travelers.  Lazy peeps.  This is for you!
The trick to keeping the brisket slice-able is layering the slab o' beef on top of a layer of onion halves.
Plus the seasoning is simple.  Here's the recipe overview:
Marinate in packaging with one bottle of soy sauce (adding liquid smoke optional). Refrigerate 10-24 hours.
Trim the Flat from The POINT  (check out the slow cooker brisket video on this)
layer bottom of slow cooker with onion halves (and chunks of point)
coat the brisket with a light layer of celery salt and / or tender quick (optional for the pink "smoke ring")
coat the brisket with a heavier layer of kosher salt and black pepper.  A large hand full of each.
Place the brisket flat FAT side down a top onions
Slow cook 8 hours on lowest setting.
Remove and let rest 30- 60 minutes before slicing against the grain in pencil thin slices.
Reserve the onions or serve as a side dish.
The main weakness of the trick is that it is very difficult to get the smoky and desirable bark of a low and slow cook.   We suggest ADDING a smoky sauce table side.
Ingredients

Marinate in packaging with one bottle of soy sauce (adding liquid smoke optional). Refrigerate 10-24 hours.
Trim the Flat from The POINT (check out the slow cooker brisket video on this)
layer bottom of slow cooker with onion halves (and chunks of point)
coat the brisket with a light layer of celery salt and / or tender quick (optional for the pink "smoke ring")
coat the brisket with a heavier layer of kosher salt and black pepper. A large hand full of each.
Place the brisket flat FAT side down a top onions
Slow cook 8 hours on lowest setting.
Remove and let rest 30- 60 minutes before slicing against the grain in pencil thin slices.
Reserve the onions or serve as a side dish.

More Recipes at BarbecueTricks.com