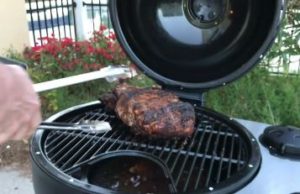 Char-Broil has released the Kamander Charcoal grill and it looks to be a big green egg killer.
It's a double walled steel insulated "kamado style" charcoal grill that crushed the price of it's green counterpart. The cost at amazon is around $350 but assembly is definitely required with the Kamander Charcoal Grill.
Construction was easy. But recommended for two people. It took about 90 minutes with just me.
I think you cant beat the price of the Kamander Charcoal grill compared to the ceramic cookers that seem so heavy and – perhaps – fragile with ceramic construction.
The Kamander Charcoal Grill's best features:
It's not too heavy (easy to move)

cool to the touch (even when approaching 800 degrees inside)

good looks and heavy duty latch / handle

held a nice low steady temperature
Take a look at the accompanying video and I time lapse unboxing and initial firing.  I was also impressed at how well the Kamander Charcoal Grill held a stable low 250 degrees.   Plus even at high temperatures (I got it over 700 degrees f ) the steel exterior remained relatively cool to the touch.

If you hate the thought of piecing together a grill like this I did discover Amazon has a service offering expert assembly for under $60.
The materials are solid.  The wheels on the Kamander are a nice, heavy, solid rubber.  The latch and front handle are also "heavy-duty" and chunky.   Nice seal on the rim too.
Still, the weight of the whole grill is said to be 115 lbs and easier to handle than i imagined for double walled steel.
We liked the sturdy stainless steel shelf and the stand are are included in the model. With the Big Green egg a lot of the extras – like a drip pan – are additional purchases.
A quick search of prices for Big green Egg vs others shows that the price for most Big Green eggs were close to a thousand bucks except a tiny version that was priced at approximately $650. Other brands like Kamado Joe are a bit lower priced vs Big green egg.