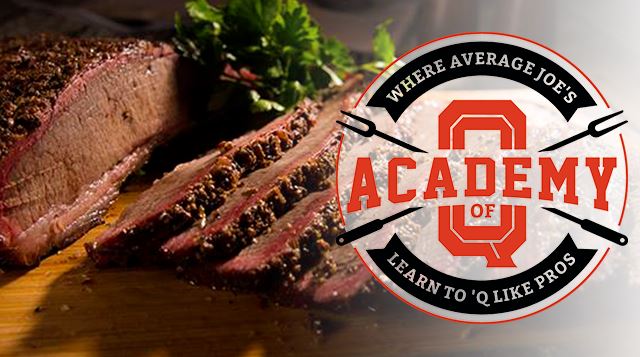 Have you ever wondered what's the easiest and fastest way to take your BBQ game to the next level? Well the answer is pretty simple. If you want to learn to 'Q like a pro, the best way is to learn from one.

The problem is that taking classes from a real-life competition pitmaster can get pretty pricey. That's why I'm excited to see the launch of Academy of 'Q online barbecue school. Their motto is, "Where Average Joe's Learn to 'Q Like Pros".

Academy of 'Q was started by founder, Jim Frank, formerly of the McFrankenboo BBQ Team where he successfully competed on the competition circuit for a decade. But success didn't come to him immediately. In fact, he struggled at first.

"It wasn't until another successful pitmaster told me there was no shame in taking courses from other pitmasters that I even realized that was an option," said Jim.

After Jim started traveling around the country taking instruction from other pitmasters he started winning – a lot.

But each course could cost $1,500 – $2,500 including travel and lodging expenses, and he had to make sure he took great notes because he couldn't take the pitmaster home with him. So he created this online course to help everyone from the backyard BBQ'er trying to learn how to do it right, to those trying to take their competition game to the next level.

Members receive step-by-step online video instruction from the Academy of 'Q website on all the competition meats plus things like fire management and heat theory, what woods go with each meat, trimming, seasoning, wrapping, and much more.

Fresh content is uploaded regularly, and the membership also includes a private Facebook group with live Q&A and instruction, help and advice from Jim and other pitmasters, as well as weekly "Office Hours" to answer any of your questions.

Playing up the Academy theme members can win prizes for "class participation" by making the "Honor Roll" by posting pictures of their cooks in the Facebook group. Make the Honor Roll three out of four quarters and you're entered to win a nice smoker at the end of the year.

Jim says, "It's always nice to have cookbooks to guide us, like the ones Bill West has written, and we think this is a great complement to what he provides."

You can check them out at http://www.AcademyofQ.com.