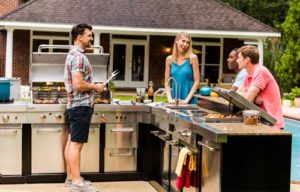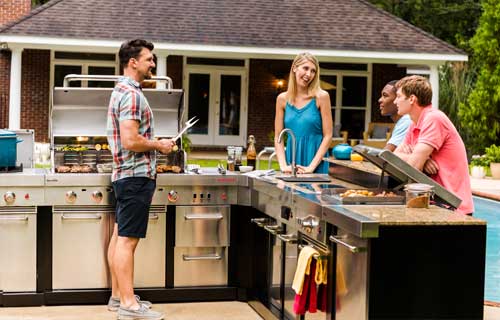 Looks like we may have a new way to get a super affordable modular outdoor kitchen. Char-Broil has just announced this special set that looks like a turn key Modular Outdoor Kitchen . The set is great looking and seems to be affordable. I'd definitely say drool-worthy!
I had been using a modular kit from Sam's Club and like the ease of buying a modular unit like this. The gas grill was the work horse (loved the infrared searing burner and rotisserie). The mini-fridge and sink didn't get much use. Still it was three pieces for a good price. Stainless steel held up nicely outdoors.
Now Char-Broil has entered the field and it looks like they have all the goodies you'll want plus a few more you may not have even thought about. I've always liked Char-broil's build quality in the Kamander and their Electric Smokers are great.
The new Modular Outdoor Kitchen is an affordable, collection ranging from a 5-Burner TRU-Infrared™ Gas Grill ($1,499) to a bar top ($449).
Full press release below. Find other items at the Char-Broil Amazon Store (affiliate link) or at Charbroil.com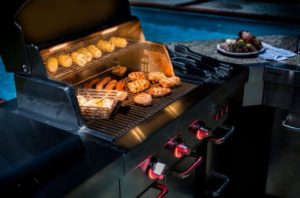 Char-Broil Ignites Backyard Entertaining with Introduction of Modular Outdoor Kitchen
Available exclusively at Lowe's, this line includes gas grills, a stove top, entertainment module and more.
COLUMBUS, G.A. Char-Broil has made the dream of owning an outdoor kitchen an affordable reality with the introduction of the Modular Outdoor Kitchen. It features a 5-Burner TRU-Infrared™ Gas Grill, Outdoor Stove Top, Refrigerator, and more. Char-Broil is taking kitchen capabilities outdoors to create the ultimate outdoor cooking and entertaining experience.
"We are dedicated to innovation in the outdoor cooking space and aim to deliver luxurious, high-quality products at an accessible price so anyone can enjoy the satisfaction of outdoor entertaining," says Char-Broil Gas Grills Product Manager, Robert Hawkins.
Listed below are product modules. Additionally, unique, high-end features like stainless steel construction and granite countertops provide durability.
Product Modules:
5-Burner TRU-Infrared™ Gas Grill ($1,499): Equipped with TRU-Infrared™ cooking technology, this 5-Burner Gas Grill boasts even heat, prevents flare-ups and delivers up to 50% juicier food every time. Made of premium stainless steel.
3-Burner TRU-Infrared™ Gas Grill ($1,099): Experience the benefits of the 5-Burner Gas Grill on a smaller scale to suit your grilling needs and better fit your outdoor space.
Outdoor Stove Top ($599): Bring the convenience of an indoor kitchen outdoors and prepare an array of side dishes and sauces in mini-pans or 40-quart pots.
Outdoor Gas Griddle ($599): Whether you're in the mood for grilled breakfast, lunch or dinner, cook a variety of foods simultaneously on the Griddle's large surface area.
Entertainment Module ($1,199): Designed to turn your Modular Outdoor Kitchen into the ultimate entertainment space, the Entertainment Module provides ample prep space, as well as a full-functioning faucet and sink. Also included is an insulated cooler, cutting board insert, trash can and electrical outlet.
Granite Bar Top ($449): Add additional space to your Entertainment Module for your family and friends to gather with the attachable Bar Top.
Refrigerator ($899): With 2.7 cubic feet of storage and adjustable shelving, this Energy Star® rated Refrigerator can accommodate an array of food and ice-cold drinks.
Corner Module ($449): This Corner Module not only provides additional counter space, but also creates a variety of design possibilities.
The Char-Broil® Modular Outdoor Kitchen will be available exclusively at Lowe's stores.
About Char-Broil, LLC:
Char-Broil® grills are designed with the entire experience in mind. The forgiving cooking technology inside every one of our products provides the tools and the confidence you need to get the most out grilling. With Char-Broil® grills and accessories, Now You're Cookin'.™