Yes you can actually grill a salad… not just the chicken for the salad or a meat on top!  Take a look and lettuce know how we did!
Some grilled salad tips:
Start with cold lettuce.
Use a halved whole head (we use iceberg in the video but romaine is also popular see radicchio below)
Grill the cold wedge on a clean searing hot grill grate
Baste with a oil based dressing first to encourage charring…
There are lots of different veggies to cook on a grill.  Below some others….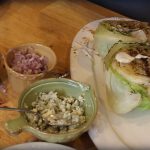 The Best Vegetables to Cook on the Grill
By [http://ezinearticles.com/?expert=Terry_Retter]Terry Retter
Every time the weather starts to warm up, my grill also starts to get busy heating up. It's so fun making it possible to cook just about anything on it either inside the kitchen or at the backyard. Summer days for us are also grilled days and among the most favorite foods to grill are vegetables. Like me, perhaps you also believe that grilled veggies do not only give you healthier side dishes, but they are also quick and fun to make. If you are planning to make your summer grilling a lot more fun with your kids, let me share our most favorite vegetables we have so much fun of cooking on the grill.
Zucchini or Summer Squash
Grilling these vegetables over an intense heat loosens excess moisture concentrating the delicate spring flavor and aroma of the squash. I like the way it grills the inside thoroughly without burning the outside skin, making it super delicious.
Peppers
Even without the sun, we like grilled peppers. After seeding, I cut them into halves and put on the grill. My children like wrapping them in foil after drizzling with olive oil. The blend of the locked in moisture, flavor and aroma makes the whole side dish powerful and very appetizing you sure would be asking for more.
Endive and Raddichio
Endive and radicchio are bitter by nature and are tempered by the intense heat of the grill while cooked with the leaves together. But this makes me one of my best salads. I just leave the lettuce in wedges for a more composed presentation and chop the leaves before tossing the rest of the ingredients together. I toast walnuts in a dry pan until fragrant and make a fantastic nutty, citrus vinaigrette and Parmesan cheese to offset the bitter lettuces in my grilled vegetable salad.
Eggplant
Full of fiber and antioxidant and promoting phytonutrients, I too consider eggplant a staple and a very effective meat substitute. Simply brush slices with oil, sprinkle with salt and pepper then grill. We sometimes rub minced garlic all over the eggplant for a fabulous garlicky tasting side for dinner.
Asparagus
Fresh asparagus brushed with a little sesame oil, soy sauce, salt, and pepper gets its very best flavor and crunch as it is grilled cooking the asparagus quickly over high heat. Since the stalks easily fall down between the grill grates, we make it fun lining them up and use toothpicks to put them together in two places, top and near the bottom, or I use my grill pan.
Potatoes
Potatoes are amazingly comfortable. I partially cook mine by simmering them before grilling so they only need to be seared over direct heat to create a golden brown crust. Grilled this way, the potatoes will have almost the texture of French fries by the time they're done. Who wouldn't enjoy golden on the outside, fluffy and cakey on the inside?
Have you tried combining slices of just the available veggies you have in your pantry, put them in a grill pan, toss with olive oil and balsamic vinegar then grill for a couple minutes on each side? Trust me; you will not only get veggies nicely marked by the grill, but a taste that you will keep relishing time and again.
Make the best grilled vegetables, find Cast Iron Grills at [http://yoursmartkitchen.com/cast-iron-cookware/cast-iron-fry-pans-and-grills.html/]Your Smart Kitchen. Your online source for quality cookware, bakeware, cutlery, appliances and related kitchenware at reasonable prices. Specializing in the highest standard Chasseur Cast Iron. Sign in for the [http://www.Chefwannabee.com/]Chef Wannabee Newsletter and avail of discounts off all Chasseur Items.
Article Source: [http://EzineArticles.com/?The-Best-Vegetables-to-Cook-on-the-Grill&id=6425406] The Best Vegetables to Cook on the Grill