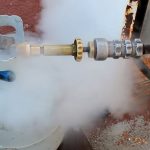 What's the best BBQ fuel source?   Purists say charcoal.  Hardwood lump.  Hardwood.  But the crew at our weekly BBQ and Grill show – GrateTV – think you can still get a great tasting product with propane gas.   your life may be a little easier in the process.  Charcoal snoots beware – you may not want to hear this.
Also remember to subscribe to our YouTube Channel (or comment on a vid if you already subscribed) to win our Island Grillstone to be given away 7/1/13.  More Here
GrateTV: New Episodes Every Thursday!
– – – – – – – – – – –
Subscribe on YouTube (never miss a video!) http://www.youtube.com/subscription_center?add_user=BarbecueTricks&feature=creators_cornier-
Facebook: http://facebook.com/gratetv
Twitter: http://twitter.com/barbecuetricks
Check out over 200 videos and recipes at http://GrateTV.com
– – – – – – – – – – –
GrateTV is a short-form, educational web series focused on making barbecue fun! We release a new episodes every week typically originating from the LowCountry of South Carolina "the Birthplace of American BBQ." Each episode is brief – about a beer in length. Our focus is on fun but easy barbecue tips and tricks plus entertaining information.