Oh, I know it's not BBQ… but this looked so good we had to share the awesome recipe and How to for Red Velvet Cake rolls…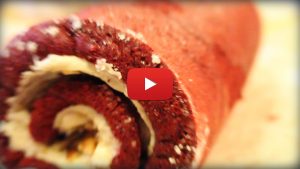 ·         1/4 cup powdered sugar
·         4  eggs , separated
·         1/2 cup plus 1/3 cup granulated sugar, divided
·         1 teaspoon vanilla extract
·         2 tablespoons (1-oz. bottle) red food color
·         2/3 cup all-purpose flour
·         1/4 cup cocoa
·         1/2 teaspoon baking powder
·         1/4 teaspoon baking soda
·         1/8 teaspoon salt
Cream cheese filling:
·         8 oz. cream cheese,
·         1 cup powdered sugar
·         1 cup pecans, finely chopped
1.      Heat oven to 375°. Line 15-1/2×10-1/2×1-inch jelly-roll pan with foil; generously grease foil. Sprinkle linen or thin cotton towel with 1/4 cup powdered sugar.
2.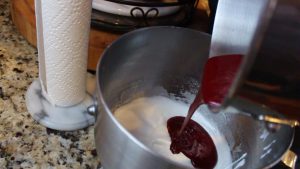 Beat egg whites in large bowl until soft peaks form; gradually add 1/2 cup granulated sugar, beating until stiff peaks form. Beat egg yolks and vanilla in medium bowl on medium speed of mixer 3 minutes. Gradually add remaining 1/3 cup granulated sugar; continue beating 2 additional minutes.
3.      Place red food color in liquid measuring cup; add water to make 1/3 cup. Stir together flour, cocoa, baking powder, baking soda and salt. Add to egg yolk mixture alternately with colored water, beating on low speed just until batter is smooth. Gradually fold chocolate mixture into beaten egg whites until well blended. Spread batter evenly in prepared pan.
4.      Bake 12 to 15 minutes or until top springs back when touched lightly in center. Immediately loosen cake from edges of pan; invert onto prepared towel. Carefully peel off foil. Immediately roll cake and towel together starting from narrow end; place on wire rack to cool completely.
5.
Prepare cream cheese filling. Carefully unroll cake; remove towel. Spread filling over cake. Reroll cake without towel. Wrap filled cake with wax paper and wrap again with plastic wrap. Refrigerate with seam down at least 1 hour or until ready to serve. Just before serving, sprinkle top with additional powdered sugar. Drizzle with chocolate syrup and garnish with finely chopped pecans. Cover and keep refrigerated. Makes 8 to 10 servings.
Cream cheese filling: Beat 1 package (8 oz.) softened cream cheese, 1 cup powdered sugar, 6 tablespoons softened butter or margarine and 1 teaspoon vanilla extract in small mixer bowl until smooth.