These Cheeseburger Pop tarts are from the Ultimate Wood Pellet Grill Smoker Cookbook. In the book we call them Cheeseburger Hand Pies but you get the idea. It's just a fun hot-pocket-ish dinner on the grill. Close your eyes and pretend it's a poor man's Beef Wellington. Watch the video HERE and below. Recipe below and in the Ultimate Wood Pellet Grill Smoker Cookbook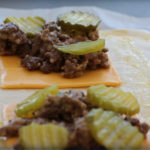 Cheeseburger Pop Tarts Ingredients:
½ lb lean ground beef
1 Tbsp minced onion
Add 1 Tbsp steak seasoning blend (salt, pepper & garlic powder)
1 cup Monterrey Jack/Colby shredded cheese blend
2 slices white American cheese
2 (14 oz) refrigerated prepared pizza dough sheets
12 hamburger dill pickle chips
6 American cheese slices
Egg wash (1 egg, beaten + 1 Tbsp water)
2 Tbsp sesame seeds
Makes 6 cheeseburger pop tarts
Serves 6
Chill dough for easier handling. Next, preheat grill to medium. Using a cast iron skillet, brown ground beef and add minced onion and steak seasoning blend when cooked through. Toss in Monterrey Jack/Colby cheese blend and sliced white American cheese. Stir until melted and well blended. Remove cheeseburger mixture from heat and set aside.
Next, working quickly with chilled dough, roll out prepared pizza crust on parchment paper and brush on egg wash. Arrange American cheese slices to make 6 poptarts. Top each cheese slice with ⅓ cup cheeseburger mixture, spreading slightly. Place 4 pickles on top of meat for each tart. Top with the remaining prepared pizza dough and cut between cheese slices to separate the 6 tarts.
Carefully, using kitchen scissors, cut the parchment to further separate, and seal the edges with egg wash and a fork. In addition, baste tops with remaining egg wash and sprinkle each with sesame seeds.
Finally, grill 5 minutes per side. (Or more watch for browning) Serve with sliced tomatoes, ketchup and mustard.
Is there something you'd like more in a poptart? Tell me in the comments!