Corn on the cob can be a hassle to get clean and free from silks.   Here's a quick trick to get each cob super clean and – since this is Barbecue Tricks it's nice to free up the grill for the meat!   Take a look.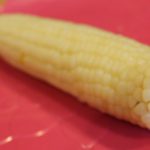 Use a sharp knive and chop the bottom – rounded ends off each cob.   Keep on the husk and all.  Then give each cob… husk, silks and all a 4 minute zap in the microwave.  Add four minutes for each additional cob.
After heating you should be able to slowly (carefully with gloves – it's HOT) squeeze out the cob.  Take a look at the two minute corn husk shucking video to see it in action.