I love the convenience of a simple electric smoker. In my book The Complete Electric Smoker Cookbook (free audio book version HERE) I  spent considerable time to get the Electric Smokers Compared. Here's the Bradley vs Masterbuilt vs Charbroil lowdown. When you compare Bradley vs Masterbuilt (or even Bradley vs Charbroil) you'll need to know that Bradley's wood "pucks" (or bisquettes as they call them) are proprietary. Masterbuilt vs Charbroil are very similar using wood chips. However the chip "containers" differ. I like that Masterbuilt can be "side loaded" (see below). Charbroil has great build quality. I've been using mine happily since I shared this Electric Smoker Unboxing video here.   I really like having both a window and stainless steel on this model.
In short – for base models – Charbroil wins when we have the base model  electric smokers compared on price:
Here's an adapted excerpt from the book with a few video examples to help you decide on a brand you may prefer.
First,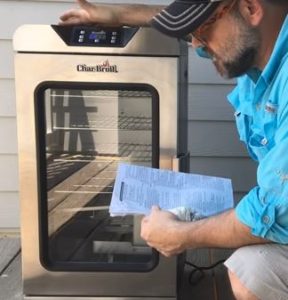 Electric smokers are beloved for simplicity. That's why I originally fell in love with my first simple Brinkmann Gourmet electric smoker.  The Brinkmann Smoker was the first thing that got me into the smoking game.
Here are the top benefits of electric smokers when it comes to preparing foods safely and reliably.
First of all the temperature is easily controlled and dependable. Like your home oven, your smoker's electric heating element is built to hold a solid steady temperature.
The heat is reliable. It won't "go out" accidentally.
It has a cleaner operation with no need to exchange a lot of charcoal or fuel.
Stainless steel interior allows for a more sterile environment.
Finally, sealed cook chambers and modern construction are better for keeping out the elements than standard smokers.
3 MUSKETEERS: ELECTRIC SMOKERS COMPARED
Bradley, Char-Broil, and Masterbuilt are the "Three Musketeers" of electric smoking. All electric smoker models have very similar, and in some cases almost identical, features. Some may have a few important and potentially limiting specialty features (such as for cold smoking or high temperature), but when it comes to electric smokers compared side by side there are a few hallmarks of each brand.
Bradley

Bradley smokers can be spotted from a mile away due to the Bradley Bisquette feeding system.  Bisquettes are proprietary to Bradley and therefore keep you locked into the Bradley brand. The mechanical Bisquette feeder is great for cooks who want quantifiable control of wood and smoke flavor. Woodchips come in tons of flaviors and, likewise, Bisquettes are available in 14 "flavors," including the most common smoking woods and some more exotic woods.
The Bradley family of smokers comes in original, digital, and smart versions. Digital versions allow you to dial in an exact temperature while smart smokers allow for remote control from your smartphone.

Char-Broil

Char-Broil has been around since 1948. Charbroil is known for affordability, solid value, quality, and great design. The newer deluxe models include some hi-tech extras such as wireless control and internal thermometers. There is also a tight latch to clasp the door securely. There's something about a chunky latch that makes my inner caveman happy.  Char-Broil also offers variants such as the Simple Smoker. It's the perfect size for smoking that once-a-year Thanksgiving turkey. Additionally, if you're looking to get into the world of wireless control and Bluetooth connectivity with your smartphone, Char-Broil has great options in its digital line. The company has recently stepped up the technology across all their cookers with the SmartChef series. Great for the gadget gurus.

Masterbuilt

Masterbuilt boasts a mini-fridge design with a desirable wood chip–loading feature, therefore letting you restock the wood chips without opening the chamber doors, and thus not losing any heat. It's the killer feature. Plus, Masterbuilt has a tradition of catering to hunters with the electric (and non-electric) Sportsman line of smokers.
Other Brands
Other available brands include the primitive bullet electric smoker similar to the one I started with from Brinkmann, plus smokers from Smoke Hollow, Cookshack, and many more that will work with the information and recipes in this book.
A Special Note
Finally, you may note that I haven't mentioned REC TEC and Traeger, both of which are pellet cookers. Smoker recipes and information in The Complete Electric Smoker cookbook can all work with pellet cookers but haven't been highlighted here because pellet cookers generally cook with heat generated from burning wood pellets and not an electric heating element. I am a big fan of pellet power. However, they are not officially electric smokers compared to the above names. However they do use electricity to ignite the pellets and to power an auger and fan that stokes the intensity of the burning pellets in a small fire pot.
Electric Smoker Features
The above is from The Complete Electric Smoker Cookbook. 
Also available on Audible (free offer) HERE