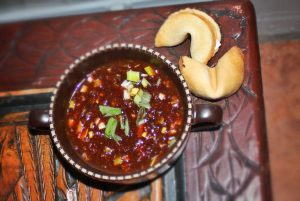 There's something exotic about a good Hoisin Sauce. It's hard to tell what ingredients make it so unique. The soybeans? Garlic? Plums? It's the Chinese ketchup and it's the starting point to making our U.S. knock-off of a Chinese BBQ Sauce.
The fresh ingredients make this sauce really zippy.   I mean if you put fresh garlic, Hoisin, and fresh ginger in my Elmer's Glue I would probably eat it… but in this blend of fresh sweet and tangy ingredients it'll make you want to eat it like soup. But save some for everybody.
This Chinese BBQ Sauce Recipe is especially good on chicken and nice and sticky for spare ribs. Another good thing is it wont have to simmer long…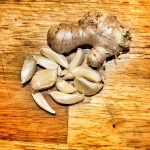 should be ready in five/ten minute.
Serve this sauce with fresh green onion garnish.
This American version of a Chinese BBQ Sauce has a freshness you can't get in bottled brands that comes from the sherry, fresh ginger, and garlic. Perfect to give an average backyard cook out a bit of an international flair. For a dynamic dipping sauce add one and a half tablespoons of smooth peanut butter.
Ingredients
1/4 Cup hoisin sauce
2 Tablespoons dry sherry
2 Tablespoons soy sauce
2 Tablespoons sugar
1 Tablespoon fresh grated ginger
5 Tablespoons ketchup
2 Tablespoons rice vinegar
3 small cloves of minced garlic (pressed in garlic press)
1 teaspoon sesame oil
One finely minced green onion
Instructions
Combine all ingredients except oil and simmer for five minutes.
Add sesame oil at end.
Stir and serve.
More Recipes at BarbecueTricks.com