Warmer weather is finally here, and that means it is officially grilling season!
There are few things that feel more like summer than standing around a grill with friends on a warm evening. While some people fire up their grill without putting any thought into how they will be cooking their meal, others are dedicated to certain methods and techniques.
Some people prefer the convenience of using a gas grill, while others are fiercely loyal to charcoal. Traditionally, grills are designed to cook with either gas or charcoal. If you like to use both fuel sources, hybrid grills are a great solution.
There will always be a debate about which fuel source is best when it comes to grilling. Here is a quick guide to help you determine which fuel source is best for the cooking at hand: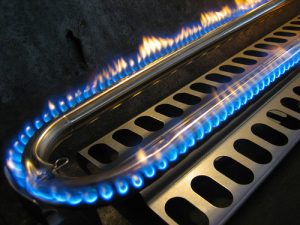 Gas
There is one advantage that gas grilling has above all other fuel sources: convenience. To start a gas grill, you simply have to turn a knob and press a button. Once lit, you have an easily controllable heat source to cook your food. Gas grills are also relatively easy to clean because there are no leftover ashes.
While gas grills are probably the easiest to use, grilling enthusiasts often have one major complaint: a lack of flavor.
Pros: Easy to light and control temperature, very little clean up.
Cons: Gas adds no flavor to food, and produces a more moist heat.
Lump Charcoal
When you burn wood in the absence of oxygen, the remains of this natural process is lump charcoal.
One of the great aspects of lump charcoal is how quickly it gets extremely hot. This typically takes only 10 to 15 minutes. Because lump charcoal gets so hot, it can sear foods rapidly. It also produces a very dry heat, which creates that delicious, caramelized crust on the outside of your food.
This quick heating process makes lump charcoal great for grilling foods that cook quickly.
Once lump charcoal reaches maximum temperature, it loses heat quickly, which can be disadvantage. If you want to use lump charcoal and sustain a high temperature, you will need to replenish the charcoal periodically. Because you are using charcoal, there will be ash cleanup involved.
Pros: Lights quickly, burns hot, great for searing.
Cons: Burns quickly, more expensive, takes time and effort to light.
Briquettes
Briquettes are similar to lump charcoal in how intensely they burn, but the similarities end there. One of the easiest ways to discern them is to look at their shape. While lump charcoal is inconsistently shaped, making it difficult to stack, briquettes usually have a uniform shape.
An advantage briquettes have over lump charcoal is that they burn for long periods of time, which makes it easier to cook at a more consistent temperature than lump charcoal.
While lump charcoal is created through an all-natural process, briquettes are not. Briquettes typically contain additives that help them light, burn and keep their shape. These chemical additives will give off a distinct smell when they are lit, but if you wait to start cooking until all the briquettes are covered in white ash, that smell shouldn't transfer to your food.
Pros: Burn time, consistent temperature, cheaper.
Cons: Chemical smell, ash to clean.
Author Bio:
This is a guest post by Arianna on behalf of Kalamazoo Outdoor Gourmet. Visit kalamazoogourmet.com to find out more about our hybrid grills.