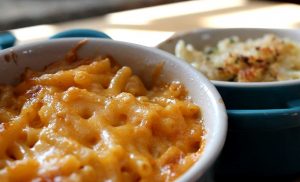 Ever hear of a Mac-Off??   It's a beautiful thing.
Recently our BBQ and Grill Show GrateTV held a little challenge.   My co-host Jack Waiboer and I made a fast wager on who could compose the best Mac and Cheese.   Like MACaroni and Cheese cook OFF or Mac-Off as we called it to kick off our series on starchy sides foe "Starch Madness."  Fun.
I'll let you watch and see who "won" HERE  but I think this "tricky" Mac and Cheese in the Slow cooker is definitely one to tuck away for future use.   It has become my favorite BBQ side and is sure to have all your friends asking for the recipe (you probably ought to just share it on Facebook now… I'll wait…).
Barbecue Tricks Slow Cooker Mac and Cheese
12 oz can evaporated milk
1 and a half cups milk
1/2 stick of butter
1/2 tsp. salt
1/2 tsp. pepper
1/2 tsp. onion powder
1/2 tsp. garlic powder
1/2 tsp. dry mustard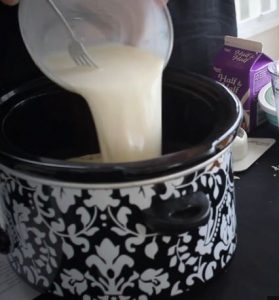 8oz. elbow macaroini
3 cups grated cheddar cheese
1 cup grated monterey jack cheese
1/3 cup grated parmesan cheese
This is the cure for StarchMadness (well at least temporarily). Start by using a non stick spray on the interior of your slow cooker. It will minimize the sticking as your mac and cheese set at the end of cooking.
In a bowl mix/beat/whisk eggs and then add both evaporated and regular milk. Mix in all the dry spices in to the mix mixture bowl. The trick is that you Dump UNCOOKED dry macaroni noodles into the slow cooker  and pour milk mixture on top. Stir completely and then add all of the cheeses. Mix again until fully coated. Cover Cooker and and slow cook on low setting for 5 hours. Stir one time after approximately two hours and try to resist opening the lid until done. Stealth peek in at the end if you don't have a transparent lid.
This recipe triples nicely in a large slow cooker.