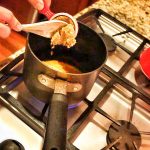 I first heard of Danny Gaulden's Glaze when shooting a GrateTV episode on Twice Smoked Ham with Jack Waiboer.  He used this glaze on other occasions too and said it was the best around.  After looking for the best glaze recipe to share Gaulden's name kept coming up.   It's interesting to note that I found several variations on this same recipe!
So I went to the source… http://dannysbbq.com where Gaulden actually has a 2003 update on his original 1999 version (the original had a beer option in stead of the vinegar).  Jack Waiboer suggests a bit of Southern Comfort in lieu of some vinegar.   Meathead at Amazing Ribs suggests "amping" it up with some hot sauce.
The basic 4 parts brown sugar, 1 part mustard, and 1 part cider vinegar seems just right to me.  Gaulden suggests using it on ribs IMMEDIATELY after pulling them off the grill.  Check out his site and give his recipes a try.
Danny's Glaze For Pork and Ribs
This is the go-to glaze for many a pitmaster originated by Danny Gaulden at Dannysbbq.com
Ingredients
1 Cup Brown Sugar
1/4 Cup Yellow Mustard
1/4 Cup Cider Vinegar
Instructions
Mix together ingredients cool. Then simmer. Baste ribs immediately after pulling of the grill.
Notes
Perfect for pork like a ham glaze and ribs and also good on beef.
More Recipes at BarbecueTricks.com