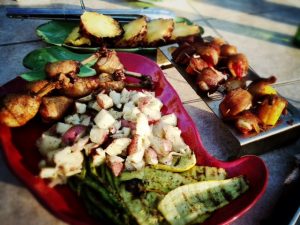 Time is ready to change again and despite what some say we think more daylight is the perfect event to kick off grilling season.  To celebrate we fire up an entire meal all on the grill and have family in to chow down.  take a look at the fun HERE and above and get recipes and more from the weekly webisode HERE.
We BBQ chicken pops, pepper poppers, and rotisserie pineapple.
Like GrateTV and BBQ Tricks?  Make sure you share rate and subscribe.  We're also Podcasting on ITunes.