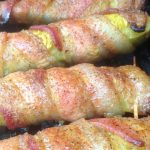 If you're planning a tailgate party you may be looking for some fun tailgate recipes to fill up hungry guests.
GrateTV tackled football party food recently and came up with two Tailgate Treats worth trying.   They call tailgate recipes Bacon Wrapped Spears and Rods.    It's affordable too.   A pickle recipe and a pretzel recipe.
Start with a sweetened and spicy bacon wrap that we call Pig Candy and simply wrap the bacon around zesty pickle spears and pretzel rods.     Fire them up on the grill and you're good to go.   Watch the pickle recipe in action below or HERE on YouTube or get the full step by step at the GrateTV Tailgate Recipe page.