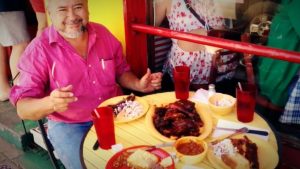 Back in September I had a chance to visit the Tastemade studios to compete in a fun little BBQ Competition with some other great You Tubers like Greg from Ballistic BBQ and Gary From Cooking Everything Outdoors as well as Dan from Smokey Goodness and  the noisiest neighborhood in America.   I made a stop at a roadside joint and used the Tastemade App to put together a little mini-review. WATCH IT HERE
If you haven't tried the app yet you should! (iPhone only right now) http://www.tastemade.com/app.   It's just fun and its an on going reminder to me how fast technology is moving.    The fact that I can put this kind of one minute production together using my iPhone still blows my mind and makes me smile.
The small BBQ  joint I visited was called Morphia's Ribs and Pies in Marina Del Rey…  I tried the "Dirty Bastard" but looking at the video I probably would try the chicken next time.  It passed my BIG test:  I smelled smoke!
See more on our Tastemade get together here:
and here: