Take a look at the video for our Grilled Philly Cheese "Cauliflower Steak" Sandwich And Cabbage Steak Sandwich.
The Philly Cheese steak was said to be invented by hot dog vendor Pat Olivieri back in the 30s. Olivieri was a hot dog vendor in south Philadelphia who was grilling a bit of beef and put it on an Italian roll. A cab driver caught a whiff and asked for a steak sandwich instead of a hot dog.  Cabbies talked to other cabbies and drivers from all over the city soon visited him for steak sandwiches. Olivieri eventually opened up Pat's King of Steaks on 9th Street. Cheese was added later.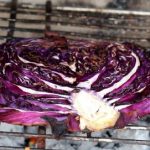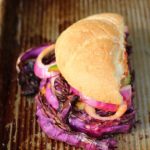 The real Philly Cheese steak sandwich is officially shaved ribeye on an Italian roll. I've had some that had something other than "steak" in my eyes to begin with that's why I had some fun adapting the beef for hearty cauliflower and cabbage steaks.
The vegetable "steaks" are created by slicing off the rounded sides of crucifer vegetables (impressive name huh?) and creating a slab of cauliflower and / or cabbage. Then slice again if possible to create at least two "steaks from each head.
Cauliflower is great for absorbing marinades and different flavors. For a steakhouse savory flair we soaked the cauliflower steaks in our favorite steak marinade.
1 bottle of light soy sauce
1 teaspoon of liquid smoak
For the cabbage we used a low sugar baste of buffalo wing sauce. Including 1 cup of hot sauce and four tablespoons melted butter (heat in saucepan to meld).
Roast the vegetable steaks over medium to high heat for fifteen to twenty minutes until softened slightly.
Grill a slice of red onion until softened.  Baste cabbage with additional sauce and flip. Top with grilled onions, and green and red thinly sliced peppers. Salt and pepper to taste.
Top with a white American cheese or traditional philly "whiz" processed cheese sauce and serve on a crusty Kaiser roll or ciabatta bread.