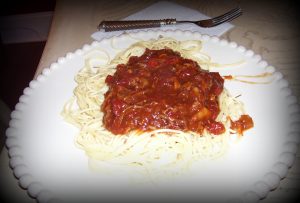 Whenever I make pulled pork I have extra. You can freeze it in small batches for quick dinners, you can make BBQ Grits, which are awesome and I will describe in a separate post, or you can make Pulled Pork Barbecue Spaghetti. Here is the recipe:
Pulled Pork Barbecue Spaghetti

2 cups pulled pork barbecue
2 medium green pepper, chopped
1 medium onion, chopped
2 tsp garlic powder
1 Tbsp olive oil
salt & pepper to taste
3 cups of your favorite barbecue sauce (or use recipe below)
Spaghetti

Homemade BBQ sauce for spaghetti:
2 cups ketchup
1 cup water
1/2 apple cider vinegar
5 Tbsp sugar
5 Tbsp brown sugar
1/2 Tbsp black pepper
1/2 Tbsp onion powder
1/2 Tbsp ground mustard
1 Tbsp Worcestershire sauce
1 Tbsp lemon juice

Mix sauce and bring to a boil. Reduce heat and simmer 15 minutes. Cook spaghetti according to package directions. Saute' green pepper and onion in olive oil with salt, pepper and garlic powder. Stir pulled pork and veggies into sauce until heated through and serve over spaghetti.