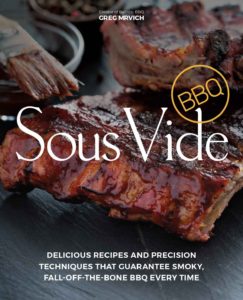 Netflix and chill?  How 'Bout Sous Vide Grill!
Every once in a while we stumble upon a trick that launches a revolution. Sous Vide grill techniques have made their way to the home; and thanks to low cost appliances and one new book it's really catching on!
My friend Greg Mrvich from YouTube's Ballistic BBQ has just released a deep dive cook book on Sous Vide grilling called "Sous Vide BBQ" and it's a great introduction to the technique. The publisher's notes say cooking meat sous vide offers precision temperature control that means you'll never have to worry about dry, overdone steaks, ribs, or chicken ever again—and don't worry, you can finish them all under the broiler or on the grill so you don't miss out on that perfect smoky sear.
What do you Need to Sous Vide Grill?
The sous vide circulators are the "most important component" according to the author Mrvich. Below are some of his Pros and Cons with links to the products. Some links may be affiliate links that provide us commissions at no added cost to you.
Fun Extra Accessories
You can make things a bit easier with a few key accessories detailed and recommended in the book.
Sous Vide Balls: These ping pong ball like orbs help minimize evaporation in long cooks. Because they are made of a special plastic they help bring the water temperature up quicker.
Sous Vide Tub: Sure you can use any container, but a large clear tub can be important to spot what's happening inside of the bath (like a bag that's leaking).  Recommended in the book: Everie and Cambro.
Vacuum Sealer: Sous vide literally means "under vacuum" in French.  Greg uses a FoodSaver brand. See the book for the detailed immersion technique for sealing the bags.
Sous Vide Clamps: These clamps help when using zip-top bags as well as keeping bags from drifting.
The sous vide and grill trick can scientifically help you nail the perfect steak "done-ness" temperature.With options for finishing outside in your smoker or on the grill, the book's 50 recipes cover everything from backyard classics to gourmet creations, including Barbecue Beef Brisket, Perfect Burgers and Santa Maria Tri-tip.
Sous Vide BBQ: Delicious Recipes and Precision Techniques that Guarantee Smoky, Fall-Off-The-Bone BBQ Every Time is available now HERE