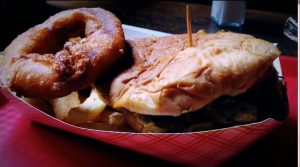 Lately I've been documenting a few BBQ  journey's and South Carolina joints.   Here's a quick look at Bessinger's BBQ in Charleston, SC.
The Bessinger's story is well known in South Carolina starting over 50 years ago when legacy beganmore than half a century ago when Joseph (Big Joe is one of the retaurant's special sandwiches) Bessinger who is the father of owner Thomas Bessinger, opened his 1st joint in Holly Hill, S.C. back in 1946.
Once he became a teenager he worked athis dad's place called Eat at Joe's, which sat on the main highway connecting Orangeburg and Charleston.  He after school time cooking and prepping tasty barbeque sandwiches, and learning the family's secret recipes, which he would later reintroduce when opening his own restaurant.
Take a look at Bessinger's on Savannah Highway in Charleston at 1602 Savannah Hwy  Charleston, SC 29407 or call them at
(843) 556-1354.
If you go make sure to try the authentic Carolina Mustard sauce (some could argue they invented it) and have a giant onion ring for me.
Had better?  Comment below.