I have fallen in love with the ease of pellet grills. In fact, the best wood pellet grills are a "barbecue trick" in and of themselves. I like 'em so much I did an entire book on the subject. Here's a bit from the Ultimate Wood Pellet Grill Smoker Cookbook where I lay out the best wood pellet grills by brand and what I like about them.
Wood pellet grills are enjoying a surge in popularity these days. This means there are new companies jumping in to the pellet cooker arena. Plus, established players continue to expand their product lines. Here are a few of the top brands and their hallmarks.
Traeger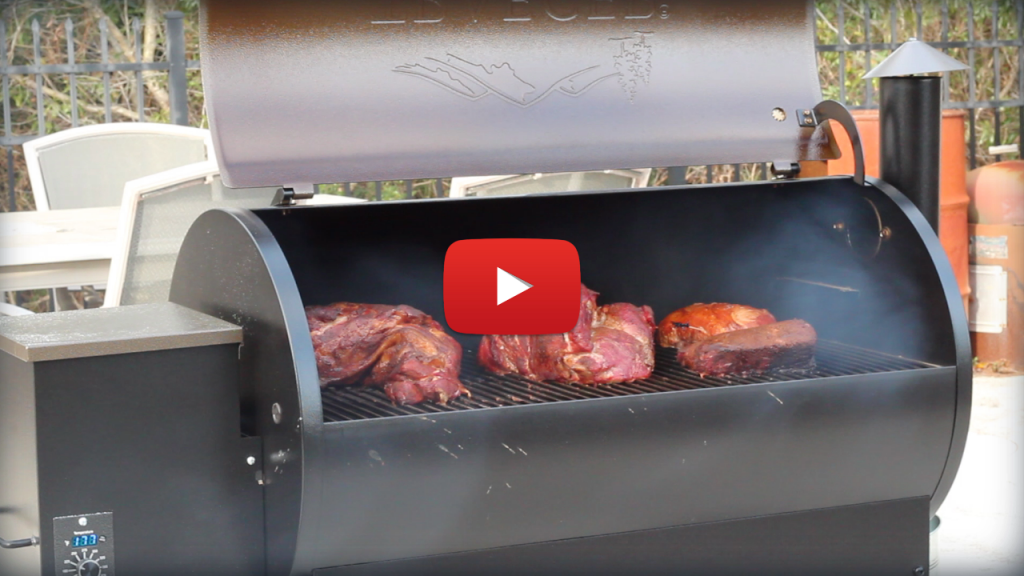 Joe Traeger's namesake brand of wood pellet smokers remains the top name in the business. These days, the company is growing, employing about 130 people, with the headquarters moving from Oregon to Salt Lake City. Traeger has the benefit of being the original with lots of hard-earned experience in the wood pellet niche. You'll find plenty of experienced Traeger fans as well as critics that are trying to grab Traeger's market share.
The prices on Traeger grills vary with the most popular model just under $999 and other smaller units under $500. Traeger's are well-built and are shaped like a horizontal barrel smoker with a distinct smokestack and a signature tin drip bucket.. Size is the main factor in pricing.
REC TEC
REC TEC is a newer company that touts quality and value including a larger hopper to hold 40 pounds of pellets for longer cooks. The hopper will burn longer and is positioned along the back of the cook chamber allowing for a shorter auger. REC TEC also is known for liberal use of high-grade 304 stainless steel in cooking grates, in the fire pot, and the signature bulls horn handles. The 6-year warranty is also notable, which is much longer than other manufacturers.
The prices on the REC TEC are typically a bit lower by model than the comparable Traeger models. The most popular Stampede model is priced at $899. But at $399, the new low-cost Bullseye model gives you a more affordable way to get into wood pellet cooking.
Camp Chef
Camp Chef is a company that made its mark in grilling before the pellet cooker revolution. Based out of Cache Valley, Utah, the company sells camp ovens, griddles, and now a line of pellet grills under the name Woodwind. The Woodwind line looks jarringly similar to the Traeger Texas line and boasts high temperatures of up to 500°F. The patented ash clean out system is also unique, plus it features a cast iron grate and a side sear box. The signature Woodwind model sells for $899.
Pit Boss
Through Walmart, Pit Boss has introduced the masses to a low-cost wood pellet grill. The Pit Boss story is all about price per square inch of cooking space. The price of the Classic is a surprising $396 and features 700 square inches of cook space. Pit Boss also features a flame broiling option with a simple slider to expose the fire pot. And they have the only hopper that features a convenient small window to allow you to gauge remaining pellets at a glance without opening. The Pit Boss Classic model does not feature the high-quality stainless steel of the other brands listed. You will want to use extra care with the porcelain coated grates and the exposed steel may be prone to corrosion.
Other Brands
There has truly been a surge in the release of new brands of pellet grills over the last few years. Other popular brands include Green Mountain, Z Grills, Fast Eddies, Grilla Grills, and MAK Grills. No doubt there will be new brands on the scene in the future. The good news is that the primary features of these cookers are the same: the ability to use your hardwood of choice and easily control the heat with a simple thermostat. Expect features like searing burners and remote controls to vary and advance as well. However, all of the recipes in this book will work nicely with any of the brands and models listed. Most of the differences are cosmetic, or in basic build quality rather than features.
Choosing Features
Many of the new brands of pellet grills resemble the original Traeger, but there are a few features under the hood worth noting. Higher cooking temperatures can allow for faster searing of steaks, stainless steel holds up best to corrosion, and hopper capacity can allow for longer cook times between refills. Most all brands now offer remote control options if desired.
Here's Amazon's Top Ten (affiliate link) pellet grills that they they update regularly.
Main Features of Best Wood Pellet Grill Smokers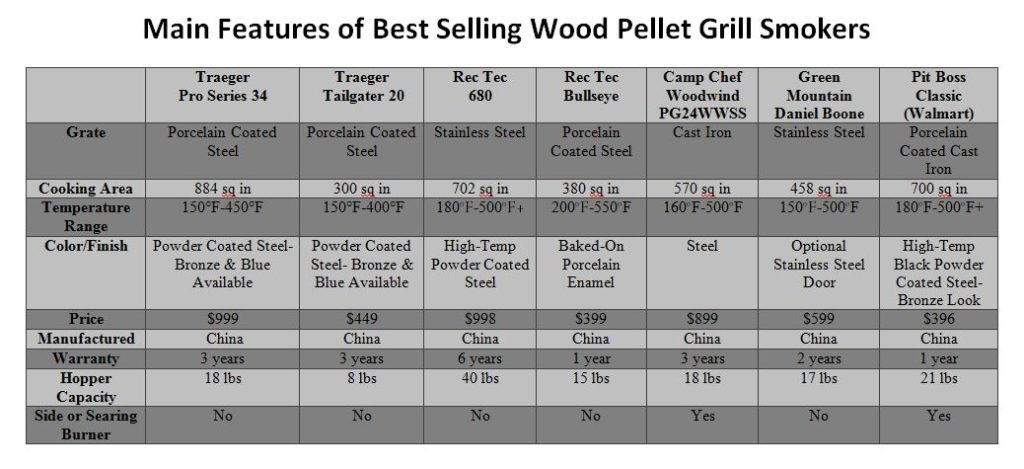 | | | | | | | | |
| --- | --- | --- | --- | --- | --- | --- | --- |
| | Traeger Proseries 34 | Traeger Tailgater 20 | Rec Tec 680 | Rec Tec Bullseye | Camp Chef Woodwind PG24WWSS | Green Mountain Daniel Boone | Pit Boss Classic (Walmart) |
| Grate | Porcelain Coated Steel | Porcelain Coated Steel | Stainless Steel | Porcelain Coated Steel | Cast Iron | Stainless Steel | Porcelain Coated Cast Iron |
| Cooking Area | 884 sq in | 300 sq in | 702 sq in | 380 sq in | 570 sq in | 458 sq in | 700 sq in |
| Temperature Range | 150°F-450°F | 150°F-400°F | 180°F-500°F+ | 200°F-550°F | 160°F-500°F | 150°F-500°F | 180°F-500°F+ |
| Color/Finish | Powder Coated Steel- Bronze & Blue Available | Powder Coated Steel- Bronze & Blue Available | High-Temp Powder Coated Steel | Baked-On Porcelain Enamel | Steel | Optional Stainless Steel Door | High-Temp Black Powder Coated Steel- Bronze Look |
| Price | $999 | $449 | $998 | $399 | $899 | $599 | $396 |
| Manufactured | China | China | China | China | China | China | China |
| Warranty | 3 years | 3 years | 6 years | 1 year | 3 years | 2 years | 1 year |
| Hopper Capacity | 18 lbs | 8 lbs | 40 lbs | 15 lbs | 18 lbs | 17 lbs | 21 lbs |
| Side or Searing Burner | No | No | No | No | Yes | No | Yes |
Know Your Smoker
As the pit master, your job is to control the cook. Life is made a bit easier with a good pellet smoker. There are still a few variables to which you'll want to pay close attention.
Time – From preheat to resting the meat after a cook, you'll want to put some extra thought and planning into the amount of time you will need. Most all pellet grills have an important preheat time frame to observe. When working low and slow with larger cuts of meat your cook times can be quite long. Start early and give yourself plenty of wiggle room to hit your desired serving time. Even after you pull the meat off the grill, there's an extra 10 minute "rest" recommended for large cuts of meat before carving.
The Meat – Your "cooking" starts at the butcher shop or grocery with the selection of the best looking cuts. Quality meats with more fat provide the best flavor. Remember: the bigger the cuts, the more cook time and seasoning you'll need.
Spices – We have great seasoning blends mapped out in the recipes you find inside, but often simplicity and freshness make a difference. Use the freshest spices you can get your hands on. You also can "bloom" some spices in a dry frying pan over low heat to activate the oils and enhance flavors.
Smoke Type – Choose your wood pellet flavor to match your meat. We'll cover this more in the next chapter, but the wood you choose matters to the consistency of these recipes.
Placement – Your pellet grill typically has a very even cooking temperature devoid of typical hot spots thanks to the convection-like heat circulation caused by the fan and the heat deflector. Still, try to position your food in the pathway of the smoke inside the chamber.
Temperature – Lower cook temperatures for smoking provides the most effective way to break down collagen and fat in the meat and absorb maximum smoke flavor. Outside temperature is also a concern that can affect cook temperature and time. Try to position your pellet grill out of the way of direct harsh winds.
The Lowdown on Temperature
On typical grills I always suggest setting up hot and cold "zones" where you can move meats to control cooking speeds. That tactic is not an option on pellet cookers. Instead, you'll be working with set levels of heat, such as hot smoking, cold smoking, and smoke roasting. This book focuses on traditional smoking at lower temperatures (225 to-275°F). It's at these lower temperatures that the real magic happens. With this set- it-and-forget-it style of pellet cooking, low-temperature meats are gently coaxed into fall-off-the-bone succulence.
Most low-and-slow meat smoking takes place between 225°F and 275°F. However, cooking at lower temperatures doesn't mean you can't go too far and overcook your food. Different foods have different internal temperature targets. For example, leaner cuts of meat dry out easily. If you're not careful, you'll end up with jerky!
When you use your pellet grill at higher temperatures, it is best described as smoke roasting. Like a gas grill you'll attain high-heat char and browning but unlike a gas grill you'll have smoke flavor. Most of the baking and cooking you can do in your home oven can also be done in these types of smokers. The popular pellet smokers mentioned in this book can all reach highs well over 400 degrees. Electric smokers are also easy to operate but have a more limited temperature high end of 275ºF. They are not nearly as versatile.
The pellet grill's other secret weapon is the ability to achieve higher temperatures than a typical smoker so we'll sneak in a few specialties when we get to recipes that take advantage of high heat, like reverse searing.
Optional Gear
You'll want a few extra tools to enhance your grilling experience. While not necessary, these accessories help ensure properly cooked foods, ease transport to and from your smoker, lend a hand with meal prep and cleanup, and can boost your wood pellet rep. I recommend adding at least a few—if not all—to your arsenal.
Drip Pans and Bucket Liners
Heavy Duty Foodservice foil with an 18″ width is the common choice to cover the drip pan in your pellet smoker. Recently, some of the grill manufacturers are now making drip pan liners as well as disposable inserts to keep your drip bucket clean. It may seem like overprotection, but drippings and grease are exceptionally stubborn and better to throw out than wash down a sink. I recommend Drip EZ brand liners.
If you're interested in pellet grill cooking be sure to check out more from The Ultimate Wood Pellet Grill Smoker Cookbook available HERE.