Wood pellet grills have become popular because they offer a level of consistency that burning natural logs cannot. Competition cooks love to know that their heat will stay consistent over time and the flavor profile will remain the same week in and week out. The compressed saw dust pellet grill pellets are free from impurities so they burn cleanly and effectively maintaining optimal temperature control.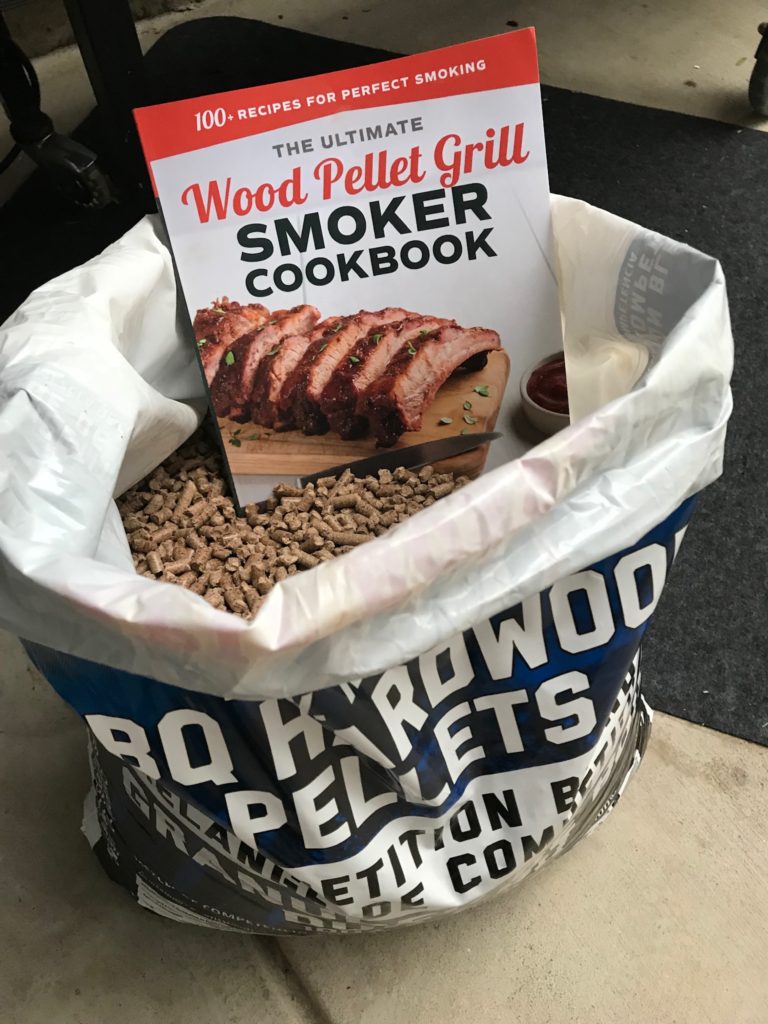 I wrote an entire book on recipes for Pellet Grill Pellets. It's called The Ultimate Wood Pellet Grill Smoker Cookbook and the following is my look at pellet grill pellets from the book.
Food-grade wood pellets
I've searched high and low for online and local sources of pellet grill pellets looking for the best price. The big issue is that you need to use food grade pellets. I've been able to find 100% oak pellets at tempting prices; however there is still no guarantee that impure and potentially toxic wood finishes, varnish, or worse haven't been mixed into the scrap wood used to make these cheaper versions. That's the importance of the USDA food grade label.
Many of the grill manufacturers have also gotten into providing their own brand of hardwood pellets. It's important to note that you do not need to stick with your grill manufacturer's brand of wood. It's good to shop around for pricing.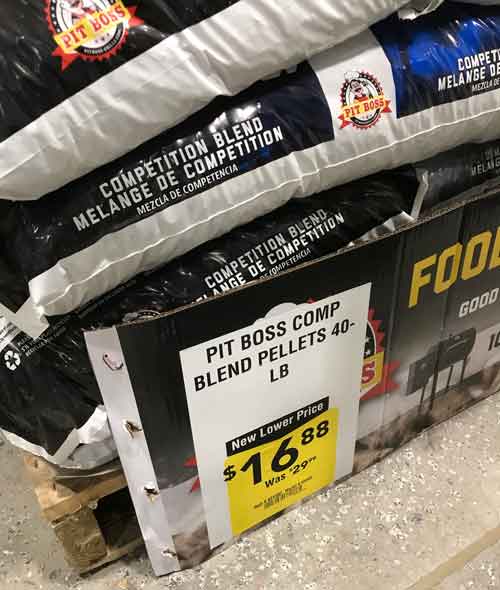 More and more often the big box retailers that now feature pellet grills are making pellet grill pellets/fuel available as well. Avoiding shipping costs can help keep your expenses down. Plus, you can occasionally find the best prices locally. The lowest price I've found is $16.88 for a 40-pound sack of food grade Pit Boss Competition Blend at Lowes. ((UPDATE- Found same pellet grill pellets on Amazon with free delivery at a close price here ) You can usually find online food grade pellets priced around $20 for a 20-pound bag. Shipping costs will likely make the difference and Amazon Prime free shipping is a smart consideration.
So when you find a good value it makes sense to store away a surplus. Pellets are food safe but there is no shelf life to worry about. Simply keep them dry and stored away for years. I also recommend transferring to rodent and insect proof containers.
Flavors of Wood
Smoke flavor is an element of a recipe that defies other senses. It's a flavor that subconsciously connects to a primitive smell of a specific time and place. Like a great song, revisiting a smoke-infused bite can take you back to a special time and place like other senses cannot. Building recipes around hardwood flavors is one of the joys of smoking. Have fun experimenting and exploring.

Single-Flavor Food Grade Wood Pellets Available
| | | |
| --- | --- | --- |
| Wood | Flavor | What to cook with it? |
| Alder | Delicate with a hint of sweetness | For fish, pork, poultry, light meat game birds & especially great with salmon |
| Apple | Slightly sweet, but dense, fruity smoke flavor | Good for beef, poultry, game birds, pork & ham |
| Cherry | Slightly sweet, fruity smoke flavor | Good with all meats |
| Hickory | Pungent, smoky, bacon-like flavor, the most common wood used | Good for all smoking, especially pork & ribs – most popular grilling wood in the South |
| Maple | Mild smoky, somewhat sweet flavor | Good with pork, poultry, cheese, vegetables & small game birds |
| Mesquite | Strong, earthy flavor | Good for most meats, especially beef, and most vegetables – most popular grilling wood in Texas |
| Oak | The second most popular wood, heavy smoke flavor. Red oak is considered the best by many pit masters | Good with red meat, pork, fish & heavy game |
| Pecan | More like oak than hickory, but not as strong | Good on most meats |
It's hard to foresee what will be coming next in pellet flavors. Special blends have become marketable for pellet makers but a lot of cooks like creating their own blends. Other than new blends the newest "flavor" of pellet grill pellets is charcoal. If you have a soft spot for charcoal flavor this could be what you have been looking for. These black colored pellets are recommended to be mixed with any regular flavor wood pellet in order to enhance the smoke ring on your meat. Charcoal pellets feature a hotter, cleaner burn. Smoke rings don't affect flavor in the least but charcoal's hotter combustion atmosphere aides the creation of the smoke ring.
Food Grade Wood Pellet Blends Available
| | | |
| --- | --- | --- |
| Wood | Flavor | What to cook with it? |
| Apple Mash Blend (CookinPellets) | Lightly sweet blend of apple mash and hard maple | Great with light flavor foods like chicken, pork, muffins and cold smoked dishes |
| BBQ Blend (Pit Boss) | Sweet, savory and tart blend of maple, hickory and cherry | Good for all foods |
| Bourbon Brown Sugar (Cabela's) | Seasoned blend of bourbon, smoke and sweetness | Good for beef, chicken and pork |
| Pellet Pro Exclusive Charcoal Blend (SmokeDaddyInc) | Charcoal blended with red oak- Mix with any flavor of wood pellets and use to enhance smoke ring; hotter/cleaner burn | Good for all meats |
| Competition Blend (Pit Boss, Camp Chef, Lumber Jack, Cabela's, Louisiana Grills, Mojobricks, Q Pellets, Lowe's, Field and Stream, Dick's Sporting Goods, Walmart, Home Depot, HomComfort, Griller's Gold) | Blend of sweet, savory and tart (maple, cherry and hickory) | Good for pork, chicken and beef |
| Perfect Mix Blend (CookinPellets) | Blend of hickory, cherry, hard maple & apple | Great on short cooks; for any foods |
| Texas Blend (Green Mountain) | Blend of oak, hickory and mesquite | Good for all meats |
| Traeger Realtree Big Game Blend (Amazon) | Blend of hickory, red and white oak with rosemary | Good for all foods |
| Traeger Turkey Pellet Blend with Brine Kit (Amazon) | Oak, hickory, maple with Rosemary | Turkey |
| Tennessee Whiskey Barrel (Big Poppa Smokers, Louisiana Grills, Jack Daniels, Mr. Bar-B-Q) | Aged oak from Jack Daniels Whiskey | Good for most meats |