Watch This Cool Trick for Oil-Less Frying
BIG BOSS 1300-Watt Oil-Less Fryer, 16-Quart
Cooking with The Big Boss Oil-Less Fryer is quick and easy, and my special Pork Skin Pork Chops come out crispy and delicious every time.  First you will need to have this fryer…  (get it here
 and support the site) Amazon has it and you will be amazed.
The Big Boss 1300-watt oil-less fryer cooks with low energy and offers triple cooking power with halogen, convection and infrared heat. You can cook from fresh or frozen with no thawing time, and has 2 trays, and holds 16 quarts so you can cook multiple foods at the same time. It even comes with a metal collar so you can "fry" a turkey in it. It cooks up to 3x faster than the oven without preheating, and leaves food moist on the inside and crispy on the outside with little to no fats or oil, so food is not greasy and you don't have to figure out how to dispose of oil after cooking. There are three cooking elements working in uniform. The halogen directly heats the surface of the food for browning, roasting and flavor. The convection circulates the hot air, evenly distributing the heat for faster cooking, and the gentle infrared heat cooks food from inside out, sealing in the juices. Works great for roasting turkey, baking fish, broiling steaks, air frying chicken, grilling meats, toasting breads, steaming veggies, and even makes dessert.
Pork Skin Pork Chops you will need:
The Big Boss 16 Quart, Oil-Less Fryer
1 bag pork skins
1 Tbsp ground black pepper
1 Tbsp garlic powder
1 Tbsp Cayenne pepper (to taste) – we like it spicy!
4-6 thick cut pork chops
1 egg
Bacos – Imitation Bacon Bits
Olive oil spray (optional)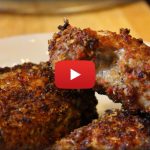 Crush the pork skins into a fine powder, and pour into a mixing bowl. Add the pepper, garlic and cayenne, and blend thoroughly with a fork. Beat the egg in a small bowl and add a little water. Dip each pork chop in the egg wash and dredge in the crumb mixture to coat on all sides. Place the chops in the wire basket provided with the Big Boss, and place on the higher rack. Spritz the chops with a little olive oil if desired.
Plug the Boss in, set the temperature at 400 degrees and set the timer for about 16-18 minutes. Turn the pork chops half way through, and use a meat thermometer to check for doneness. Pork should have an internal temperature of 145°. The chops will come out crispy and moist!