Grilling season is just around the corner and now is the time pick up some new skills and ideas so you don't get stuck in the same old burgers and hot dog rut.
One great way to add some variety to your grilling sessions is to break out your rotisserie.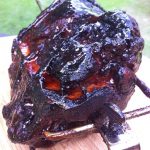 Now BarbecueTricks.com has already shown you how to do a classic rotisserie chicken.  We've even showed you how to use a rotisserie to make a beautiful spiral cut roasted pineapple!
Here's a way to get even more fun out of your rotisserie by letting you know that rotisseries are incredible for anything that you would want to slow roast.  Lucky for us that opens up most of the world of pork!
The perfect piece of pork for the rotisserie is a 3-5 pound pork loin. You will want to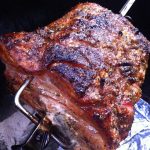 roast this with indirect heat for around two hours or until it hits an internal temperature of 150F.  To make sure the loin stays juicy you can brine it overnight or simply inject it with some Creole Butter.  Make it look amazing by scoring the fat in a diamond pattern before roasting.
Another piece of pork that is amazing on a rotisserie is a pork butt.  No joke; you can use a rotisserie to make amazing pulled pork!  I slow cooked this butt on a Weber gas grill for around eight hours and it turned out incredible.  Some friendly advice…make sure you truss the butt since it does get fall apart tender!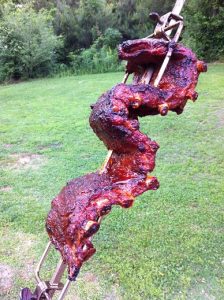 If you ever come across a bone-in pork roast you know what you need to do with it…that's right, spin it on your rotisserie!
If you want to take a break from "low and slow" barbecue ribs you can season them up, weave them onto a rotisserie and roast them until the skin is crispy with just a little char.  These are spectacular with a little squeeze of lemon juice.
Last up on the list is a rotisserie pork belly!  I use a standard rotisserie basket when roasting bellies.  Simply score the fat, season with garlic, salt and pepper then spin that belly until it hits 160F.
I promise the smell will be so incredible it will make you weak in the knees.  I will slice the belly thin for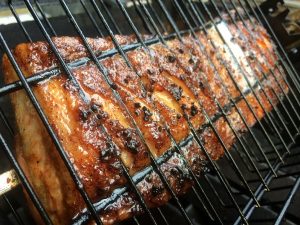 sandwiches and cube some up to add to roasted veggies.
I hope these ideas inspire you to break out your rotisserie and get a little freaky with your grill this summer.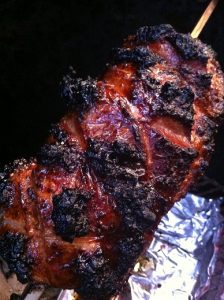 In addition to rotisseries here is a link to a few other great grill accessories to bring a little more grilling joy to you life!