If you've ever tried stuffing a burger with cheese you know it can be challenging.
Here's how to master stuffing a burger with pimento cheese (recipe below) without creating a burger mess. Stuffing with this kind of cheese works really well because the combination of cheeses tends to stay firm enough to keep from leaking out.

Pimento cheese is a southern delicacy sometimes called the "Caviar of The South." I love it because it can also be used as a dip or spread on crackers. In fact – thanks to low carb diets – it has become trendy to serve with pork rinds.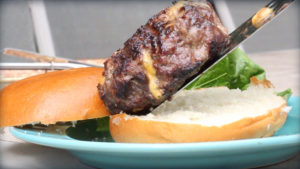 WATCH: Take a look at the video as i step through making the pimento cheese, stuffing a burger with it,  and grilling them up over charcoal.
The trick is to shape the cheese into a tube shape in parchment paper and freezing or chilling. Then cut the cheese into disks that can be pressed into hamburger cups. Working with COLD ingredients helps the process.
Stuffed Burger INGREDIENTS:
For Bugers:
2 lbs of ground beef 80 percent lean
salt and pepper to taste
For Pimento cheese: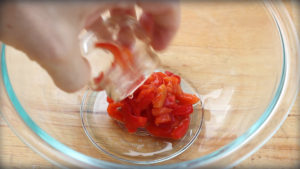 2 cups extra sharp shredded cheddar cheese
8 oz. brick of softened cream cheese
1/2 cup mayo
4 oz. Jar of diced pimentos
1/4 teaspoon onion powder
1/4 teaspoon garlic powder