I am so excited to announce that I have a new book coming September 26th!!
You can pre-order it now

CLICK

HERE!
The book is about how you can easily master smokin' good BBQ, cheaply, conveniently, and deliciously while using any electric smoker. Recipes are designed for busy people to leverage all the convenience and simplicity of smoking on an electric cooker with authentic wood smoke flavor.
The Complete Electric Smoker Cookbook contains:
Expert Techniques―for every electric smoker including temperatures, times, wood types, rack placement, and more
Over 100 Finger Lickin' Recipes―specifically designed for your brand of electric smoker, from popular meat and seafood recipes to side dishes and dessert
Handy Guides―for the perfect BBQ from start to finish with menus, recipe pairings, and whiskey recommendations
Take a look: http://bit.ly/Electric_Smoker_Cookbook
---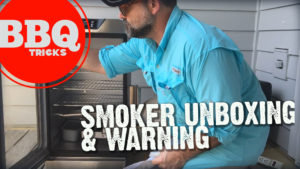 Don't have a smoker? Watch me break in this new BBQ toy and heed my warning before your first smoke:
https://youtu.be/1YPq1m68lcI
Buy this one on Amazon which I used to test a lot of these recipes: http://amzn.to/2vBXF6k