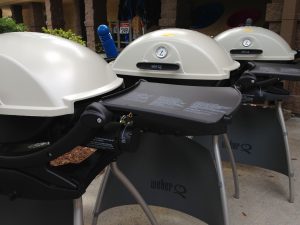 Ever get a present that seems daunting to put together?  We figured the Weber Q 220 Unboxing may help.  The Weber Q 220 portable grill came in a big box and a second biggie came with a grill cart for the stand with wheels. Check out the video HERE for the unboxing (youtube).
Weber Q 220 Assembly
Overall the challenge of putting it all together wasn't too bad.  The Weber Q 220 Unboxing took  about thirty minutes. The plasticky (in a good way) stand took another thirty minutes.  Total time was about an hour. I'm sure if you really focused in you could get it done faster. I stopped for a beer :).
As you can see after the Weber Q 220 Unboxing I was able to quickly fire up a hotdog. I've since grilled several steaks and burgers.
Fire Power
I still feel like I'm not getting as strong or as hot of a flame as I think I should.  Next step may be to try to return the reulator attachment (some other online reviews give props to Weber for good support on this).    I have had sketchy regulators in the past and my conclusion is that they are all maybe a bit too safe for safety purposes.
The Weber Q 220 Stand
The Weber Q220 works great with or without the stand (looks pretty nifty with or without too).  Extra note if you plan to try to use the Weber Q with a larger propane tank as I do in the video you will need the special adapter hose. Purchased separately.
Overall – and a really very simple Weber Q 220 grill with easy assembly. The conclusion is it's a nice form factor that's well constructed. It's sturdy steel where it matters and plastic most everywhere else (nice for grimy 'que cleanup).