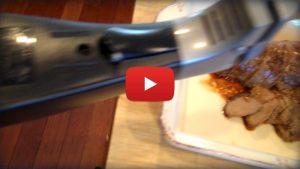 You can spend a lot of money on grilling and BBQ gear especially if you're getting into competitions… so before you buy here's a few things you need to know before you buy an electric knife...
Black & Decker EK700 9-Inch Electric Carving Knife, White

Cuisinart CEK-40 Electric Knife
Hamilton Beach 74250 Carve 'n Set Electric Knife with Case, White
Rapala Rechargeable Cordless Electric Fillet Knife
Some are less than twenty bucks so think about the following…
Cord length… it's usually our first annoyance – look for a knife that wont force you to purchase an extender.
Blade length -7 & half inches may not "cut it" when it comes to large turkey… compare the length of the blade – not necessarily the length of the handle.
Can you remove the blades? That means is it easy to clean? Can you find Replacement blades ?
Finally – how is the Grip? – Hard to tell online but think about a slick finish…. remember hand could be greasy – and you really want it to be able to lock into the on position?
Top sellers:
Black& Decker EK7009 inch
Hamilton beach
Rival 1250
And Rapala makes a battery rechargeable version for about $100 –
Some competitive cooks that slice through a lot of brisket go cheap and consider them almost as a disposable item replacing often. We'll put links to a few of the most popular in the notes here and for tips tricks and reviews find what you love at barbecuetricks.com.>See The Electric Knife Video Here