Plum Chicken Pops is my favorite recipe from my new book The Complete Electric Smoker Cook Book.  Chicken Pops are one of those things that are a bit of a trick to make therefore they'll take a bit more time. As a result they are always more appreciated.  Check out the video to see the How To pluck the pops HERE.  

Chicken drumsticks have always been a BBQ favorite. We love them as a kid because they are tasty, hand held, portable, and fun. As an adult I can also appreciate the fact that dark cuts of chicken are easier to cook without drying out. Because dark meat is so affordable – heck inexpensive – my wallet is happy too.
Furthermore, the addition of this sweet and sticky plum sauce takes the drum stick to the next level of flavor. Plus, making the handle all fancy (a technique known as "Frenching")  keeps your family's fingers from getting too sticky.  The boys (young and old) will just like it because it looks cave man cool.
Plum Chicken Pops
12 chicken drumsticks
2 tsp salt
2 tsp pepper
For the plum sauce:
¾ of a 16 oz jar of plum jam
2 Tbsp apple cider vinegar
1 Tbsp brown sugar
1 Tbsp minced onion
1 tsp crushed red pepper flakes
1 clove garlic, minced
½ tsp ground ginger
Salt & pepper to taste (less than i did in the video – whoops)
First of all make the plum sauce. Combine all ingredients in a medium saucepan and remove from heat after reaching a boil. Set aside.
For the unique looking legs that I call pops you need cut the skin down to the bone just over the bottom end leg joint.  Stretch skin as much as possible on drumsticks and using a needle nose pliers, remove the thin, white tendons from each leg.  You'll need to grip (I suggest using a paper towel to grasp the slick skin) the meaty end and then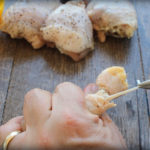 pull and  "pluck" the long tendons This can sometimes be tricky (and slippery) to do. Don't panic if you lose a bit of meat clinging to the shoelace -like tendons. Grip the meaty end to help keep more meat in the process.
Sprinkle each with salt and pepper and head to the smoker.
I used cherry wood and smoked on a Char-broil Electric Smoker for 90 minutes at a steady 250 degrees F.  Look for the skin and meat to retract to create a nice looking ball at the end of your "chicken pop."
Finally, I like to dredge the pops in the sticky sauce. However it's really up to you.