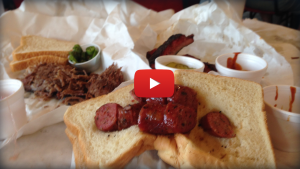 So just what is Texas BBQ?  We paid a visit to a Lockhart Smoke house near Dallas to watch them do it right… It's the home of Jalapeno Sausage (via Kreuz Market).
It's beef it's brisket-it's butcher paper it's jalapeno peppers… Texas BBQ just what makes it special? Plus a trick to the sauce… Just outside of Dallas at Lockhart BBQ and yes… my test its you CAN smell smoke!
Lockhart Smokehouse in Dallas ft worth – helps define some things… The meat is beef… Brisket is the headliner And the smoke – although many think mesquite- post oak -rules here— and why not think local — post oak is white oak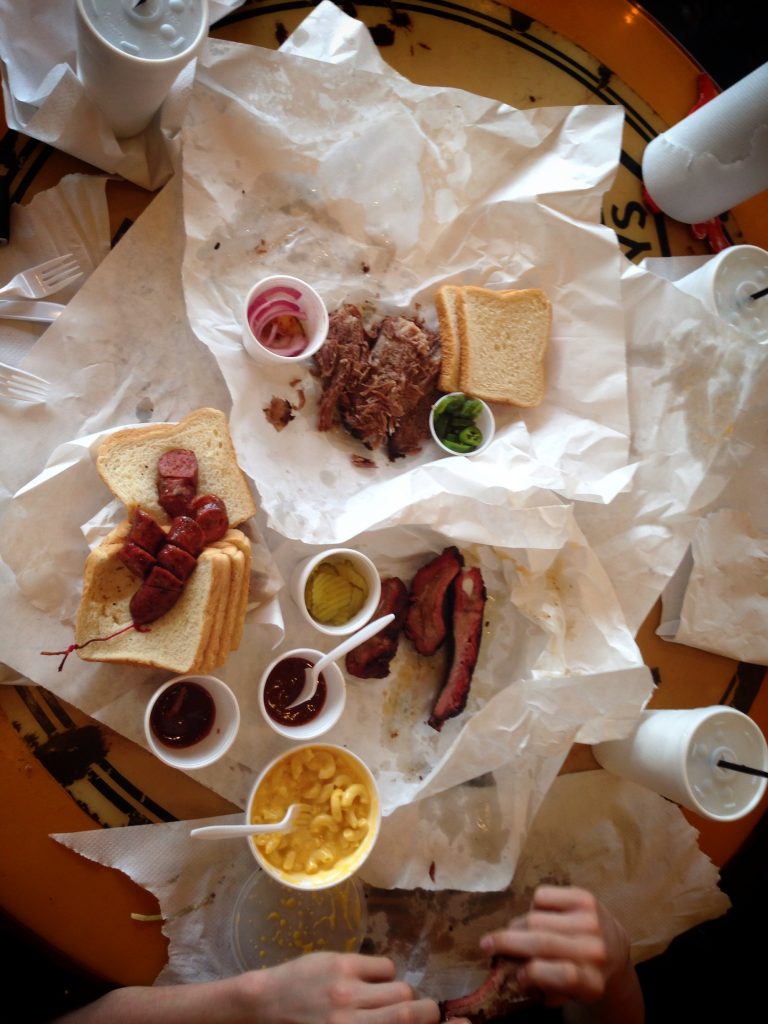 and native Texas tree with a name that refers to it's popular use for fence posts…
Texas BBQ is also aligned with fresh smoked sausage- here the juicy snap of a fresh smoked jalapeno sausage is a specialty – and here they tip their Texas hats to the best -Lockhart smoke house is the area's exclusive purveyors of Kreutz Market sausage- Kreuz is Texas BBQ royalty since 1900..
But alas a 4 hour drive away from Dallas so – Fortunately
-here they show off the connection to Kreuz on the walls and on the trays with that incredible Jalapeno sausage.
How many times you been here?: "Too many times to count… I have been in and out of this state up and down the country and have not found better BBQ.
They Do allow sauce at Lockhart – and unlike Kreuz they DO allow sauce and forks.
The sauce in Texas is tangy and dark red with ketchup and Worcestershire and sometimes served hot like this – at Eddie Deen's Crossroad's BBQ near Cowboys stadium…. A real treat -This is one of the few places you can actually get the sauce hot right out of the cooker. In fact the bbq trick is to serve the sauce hot on the side – it adds a definite zip of freshness that sends tongues into overdrive. See our whatsthishere sauce recipe video for a close impostor.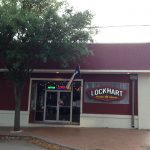 Next – typical Texas 'cue is served and sometimes even cooked in butcher paper
Along with mega jars of jalapeno peppers and pickled red onions… Ribs, Occasionally shoulder clod and chicken its the full combination mixed with oak smoke and a lone star flag that truly defines Texas BBQ –
Tell us you favorite BBQ joint in the comments or tag is in a #grateplate and
For more on BBQ from Memphis watch here.