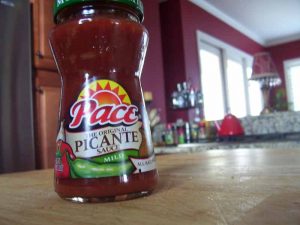 Most people host a Super Bowl Party, we host a Super Bowl Barbecue. If you're looking for a sure-fire way to spice up your party or next barbecue, serve these crowd-pleasing, lip-smacking dips! The common ingredient is zesty Pace Picante sauce. Pace  provided it at no charge and asked us to share our favorite dishes using their product. Here are the two dips we chose, but rest assured there are many uses for Pace Picante sauce when planning to barbecue!
Firehouse Bean Dip

1 stick butter
1 chopped onion
2 cans canned Pinto beans, drained & mashed
6 oz. Provolone cheese, cut up
3 jalapenos, finely chopped
1/2 cup Pace Picante sauce
1/4 cup milk
1 Tablespoon prepared garlic
1 Tablespoon Morton's Hot Salt
Serve with warm flour tortillas and home made sturdy tortilla chips

Melt butter. Add beans and cook over low heat mashing and stirring until smooth. Stir in remaining ingredients and cook until cheese melts, stirring often. Keep on low heat until ready to serve. Cut flour tortillas into wedges and microwave in wax paper. Serve dip while hot and bubbly with warm tortillas and tortilla chips.
For a heartier dish, try this next one with either tortilla chips or battered chicken fingers.
Southwestern Ranch Dip

8 oz. sour cream
1/2 cup Buttermilk Ranch Dressing
1 cup Pace Picante sauce
1/2 cup cheddar cheese, shredded
1/4 cup Bleu cheee crumbles
1/4 cup Tabasco sauce
1 chopped Chipotle pepper in Adobo
Serve with battered/fried chicken fingers and sturdy tortilla chips

Mix all ingredients until well blended and pour into a small baking dish. Bake at 350 degrees for 20 – 30 minutes until bubbly. Serve hot with fried chicken fingers and tortilla chips.
These taste-tempting dishes are sure to please your most discerning palettes, and just remember Barbecue Tricks when you're looking for some delicious recipes and tips!