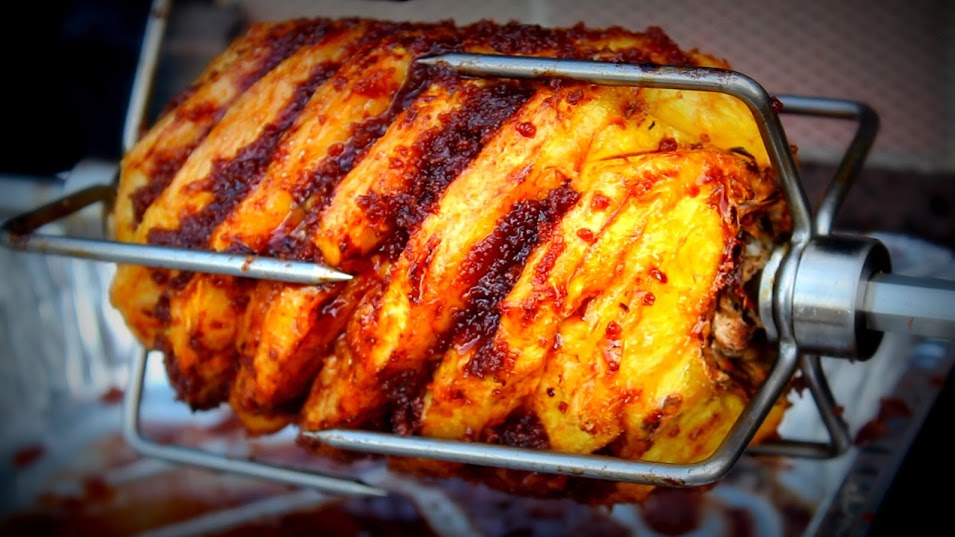 This recipe is simple.  But you need a proper rotisserie you are comfortable with.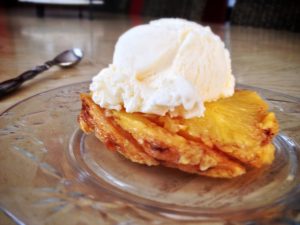 The trick is to give the fruit some pizzazz with a nifty spiral cut.
Peel your pineapple with a sharp knife and create a spiral pattern to remove all the unsavory "eyes" along the flesh of the fruit.  These ridges not only look really cool they act as a receptacle for the butter, sugar and cocoa "rub."
We used a crystal cane sugar because it has a higher burn temperature and it will create a caramel crust.
Slice in rounds right off the spit or slice and serve with a dollop of ice cream.  Your barbecue guests with think you are showing off and will love this flashy and delicious desert.
Rotisserie Roasted Spiral Cut Pineapple
Ingredients
2 Tablespoons Cocoa Powder
1 Large Pineapple
1 stick of butter
1 Cup Cane Sugar (Sugar In The Raw or Demerara Sugar)
Instructions
Peel pineapple and carve spiral grooves for decoration and to hold sugar mixture. Rub with reserved melted butter, cocoa, and sugar.
Create "pilot hole" to help drive spit through core of the pineapple and secure with probes and pliers.
Spit roast over a drip pan for 30 to 40 minutes and then coat generously with warmed and combined sugar, butter and cocoa mixture. Continue to spit roast and glaze until remaining paste is gone
Slice and serve plain or with ice cream..
More Recipes at BarbecueTricks.com