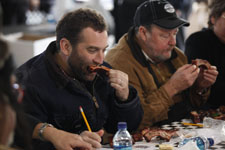 Here are a few of the biggest barbecue competitions and their scheduled dates and times.   The biggest three – Memphis in May, American Royal, and The Jack Daniels Invitational get special attention at the top of our list with links to your local and state organizations below.    Link to individual sites for more on becoming a BBQ judge for specific sanctioning organizations.
If you'd like to recommend an upcoming tournament just post it in the comments below or notify us via email at [email protected]!
May  –Memphis in May's World Championship Barbecue Cooking Contest is May 13-15, 2010  http://memphisinmay.org/bbq
June – Helen Ross McNabb Center of East TN.  will be hosting an Annual BBQ Bash in June. The information is as follows:  June 11, 2011 at  The Shed @ Smoky Mountain Harley-Davidson & Buell, Maryville, TN  Benefiting the Helen Ross McNabb Center More Here
Aug Smokin' Eagles International SEBBQ.com Competition
September – The American Royal Barbecue is the opening event of the American Royal and the season finale for the competitive circuit. Spreading over 20 acres in Kansas City's historic Stockyards District, and with nearly 500 teams competing in four culinary contests, The Royal is the largest barbecue contest in the world. Combine this with a barbecue-related trade expo, this two-day food festival is truly the "World Series of Barbecue."   http://www.americanroyal.com/Default.aspx?tabid=65
September – Labor Day Weekend (Sat and Sunday of the holiday weekend) BBQ and Bluegrass, BooneHall Plantation, SC  BooneHallPlantation.com (looks like they have paused this annual event)
October 
Big BBQ Bash — Greenback, TN is Back for its 4th Consecutive Year Benefiting the Helen Ross McNabb Center.   The 2010 Big BBQ Bash is set for Oct 15 -16 at Maple Lane Farms, Greenback, TN. The event is AN amateur barbecue cook-off and fundraiser for the Helen Ross McNabb Center, CREATED by the Leadership Blount Class of 2007.    To register an amateur BBQ team or for sponsorship and vendor information, please visit the official event website, www.blountbbqbash.com.
The Jack Daniel's World Championship Invitational BBQ is an international event like no other. Taking place in the tiny town of Lynchburg Tennessee (population 400, plus or minus), the event draws 35 BBQ teams and BBQ judges from around the world to compete for the US$15,000 in prizes.  http://www.lynchburgtn.com/Events/BBQ.html
Arizona Barbecue Association (ABA) www.azbbqa.com
California Barbecue Association (CBA) www.cbbqa.com
Florida Barbecue Association (FBA) www.flbbq.org
Greater Houston Barbecue Society (GHBBQS) www.angelfire.com/tx/ghbbqs
The Greater Omaha Barbecue Society (GOBS) www.gobs.org
International Barbecue Cookers Association (IBCA) www.ibcabbq.org
The Iowa Barbecue Society (IABBQ) www.iabbq.org/modules.php
Kansas City Barbecue Society (KCBS) www.kcbs.us
Lone Star Barbecue Association (LSBA) www.lonestarbarbecue.com
Memphis in May (MIM) www.memphisinmay.org
Mid-Atlantic Barbecue Society (MABBQA) www.mabbqa.com/index.html
Mosquito County (FL) BBQ Society (MCBBQ) www.mcbbq.com
National BBQ Festival  www.nationalbbqfestival.com
New England Barbecue Association (NEBA) www.nebs.org
Pacific Northwest Barbecue Association (PNWBA) www.pnwba.com
Southern Barbecue Network (SBBQN) www.sbbqn.com
South Carolina BBQ Association (SCBA)http://www.scbarbeque.com/events.html
Texas Gulf Coast BBQ Cookers Association (TGCBCA) www.tgcbca.org
World Barbecue Association (WBA) www.wbqa.com
Remember to post your cookoff with a comment below and we'll add it to the list.