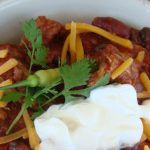 Love a good Chili Cook-off?   This was a last minute – rush to slap together – concoction that just happened to be a crowd pleaser!   Unfortunately, it didn't win with the judges in the office cook-off … but out of eleven other entries I heard some unsolicited (it was a blind judging) raves for it's traditional chili taste and it's hearty barbecue meatiness.   The winning chili was fantastic but was fairly eclectic with red wine and venison.
In a last minute / night before frenzy I decided to use a leftover pork tenderloin as the meat of choice.  It worked great… but feel free to substitute something a bit less expensive (like pork shoulder).     The lean tenderloin did however make for a low fat and overall healthy and hearty bowl of comfort.    Third place was still a favorite.
3RD PLACE BARBECUED CHILI
1.5 lbs Pork Tenderloin (substitute leftover pork shoulder or pulled pork)
2 packages Chili seasoning mix
1 whole large white onion (diced)
5 green onions (chopped)
1 tsp prepared garlic
1/2 red bell pepper (sliced in slivers for texture and appearance)
1 – 15 oz can of black beans
2 – 15 oz. cans of kidney beans
8 fresh Tabasco peppers (substitute: 3 jalapenos) finely minced
2 – 15 oz. cans of diced tomatoes
4 fresh ripe red tomatoes – diced
1 – 15oz. can Tomato sauce
Brown cooked pork in oiled skillet. Add onions and garlic and cook until transparent.
Transfer to deep pot or crock pot, add the rest of the ingredients and simmer.  Add up to a cup of water for preferred consistency.  Serves 10 to 20.