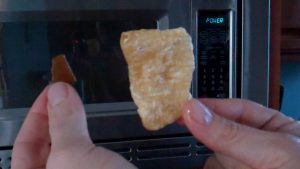 Interested in just how you make pork rinds or chicaronnes?
Here's a few ways in this new video.  I take a look at two products:
Lowreys- http://amzn.to/1THC91j
Carolina Gold http://amzn.to/1qYzYOV
The nice thing about both these products is that the end product is a crispier and crunchier pork ring than you'll find in packaged snack foods.  The Carolina Gold is unseasoned (and comes in a pouch as plain pellets).  The Lowreys (no relation to the seasoned salt that I know) comes packaged like microwave popcorn bags and is very convenient.  My recommendation is to try the "Hot and Spicy" version of the Lowreys or come up with your own spice blend to season the Carolina Gold brand puffs.
For low carb dieters these are great and sturdy chips to serve with a top notch guacamole or pimento cheese.
If you want to see a different take we talk to Rodney Scott of Scott's BBQ in Hemingway, SC about how he does it with the whole hog skin. On the grill you fire the skin with intense heat to cause the blistering or popping.  The end result is a bit different but equally delicious.
My full interview with Rodney is in the new BBQ Blueprint Book – http://amzn.to/1VrfMBR