BISON curious? Time for some red meat! Ever wonder how cooking bison compares to beef on the BBQ? Here's my review and how I cooked fresh bison meat on the grill and smoker.
The other Red Meat
The USDA defines "red meat" as "all meats obtained from mammals," but for this post I like to think bigger. Red meat includes beef, lamb, and even wild game. And YES BISON!
Red meat plays a starring role in American barbecue. We eat about 25 billion pounds of beef a year in the United States. Believe it or not, per capita, Uruguay and even Argentina actually consume more. Now I see why the new Brazilian steakhouses are so popular. They have the meats!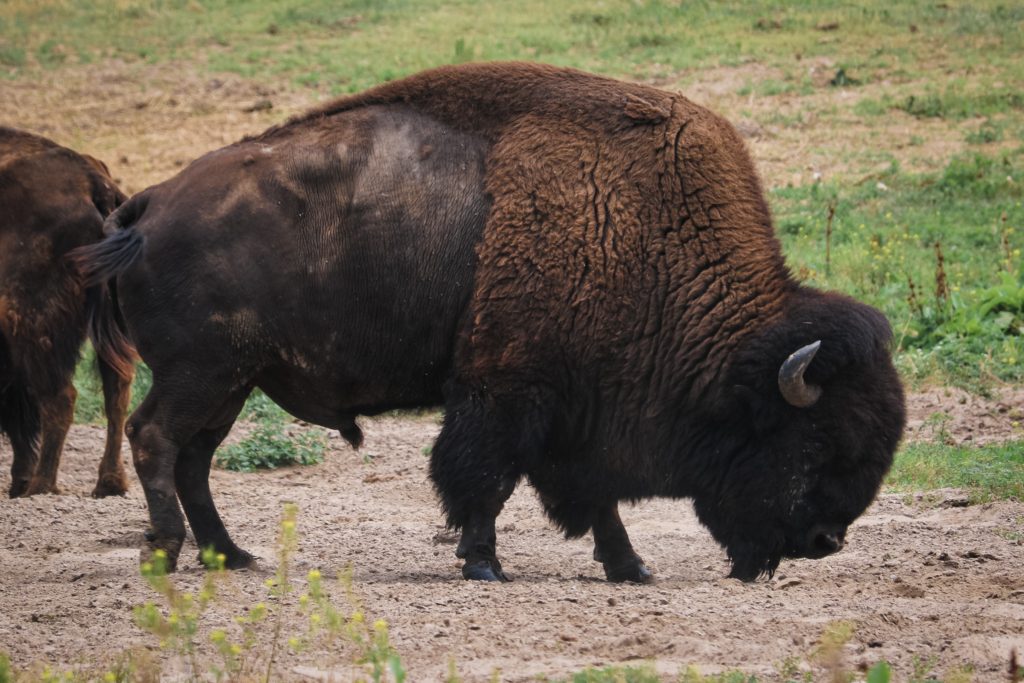 The most popular red meat BBQ recipes to grill at home are usually beef. But I have been seeing BISON and BUFFALO pop up on my meat seeking radar. I recently connected with The HONEST Bison and I've been really enjoying their meat. I should note I was provided the bison for this article. This post also contains affiliate links and I will be compensated if you make a purchase after clicking my links.
Take a look at what The Honest Bison has to offer HERE
Why Bison?
Bison is seeing a surge in popularity in North America due to the sustainable farming craze, and because it is considered a healthier protein choice. It's interesting to note that a bison is not the same as a buffalo, although it is sometimes incorrectly used as a nickname. Bison is a much leaner meat than beef so the trick is to keep it moist, since there is very little fat to render.
Bison Is Better For You
First thing that I really like about bison is the fact that Grass fed meat is better for you than your average factory grain fed beef.
Supermarket beef these days is plumped up with grain. Seek out meat that is labeled grass-fed or finished. Although grass-fed meats have a little different flavor profile, grass-fed beef is prized mainly for its health benefits. It is also considered more humane for the animals. Grass-fed and finished beef comes from cattle that are pasture-raised and fed with only grass, not grain. It's a more expensive process with real dietary benefits. Grass-fed beef has healthy Omega three fatty acids. Also, it is higher in antioxidants, vitamins, and a beneficial fat called conjugated linoleic acid (CLA) that is known for its improved immunity and anti-inflammatory benefits.
Same goes for the Bison from The Honest Bison. It's hormone-free, organic meat (Hey, when I was a kid, everything was organic!) Honest Bison delivers the meat right to your door. They take their meat seriously, and I highly recommend them. Another smoked cut of meat you will like is their ELK. Wait!?! My auto correct really wants to give you an "Otter Smoked cut of meat!" I'm thinking that would be unusual…
They call it: Food you can trust. Naturally.
The Honest Bison was founded on the notion that they believe you should be able to trust what you eat. When they saw how hard it was to find unprocessed, humanely raised, quality meats in stores, The Honest Bison was born. Here's more from the company website:
"We started out with just 100% grassfed bison but have since branched out to include a curated selection of other high-quality meats as well. As we continue to expand, our mission still remains the same – to bring trust back into today's food system."
Also, on the Honest Bison website it is inspiring to see them spell out their truths: Transparency, Respect and Purity.
Transparency
Transparency. We believe everyone deserves to know exactly where their food comes from: how it's raised, how it's processed, what's in it and who's handling it. We follow our meat every step along the way and know everyone involved personally. And we will always answer any questions you have honestly.
Respect
Respect. Everything we do starts from a place of respect – for our animals, our land, our partners, our customers and ourselves. Our holistic approach to ranching helps replenish the lands naturally and allows the animals to roam freely in large, grass pastures. Our animals are always treated humanely, in both life and the slaughter process.
Purity
Purity. Our meats are processed as minimally as possible to allow the natural flavors and nutrients of the animals to remain intact. Any ingredients we add are real, whole foods and are always clearly labeled.
How I cooked my Bison
So lets look, specifically, at what bison cuts I grilled/smoked and just how I approached cooking bison.
I quick grilled my ground bison as burger patties.
The bison short ribs tasted great slow smoked on my pellet grill.
I cooked bison brisket with simple seasoning and "low and slow" smoke.
All three of these cuts cook differently so I'll look at them separately below. You can also choose from steaks and roasts so think of this as a BBQ focused look at how to cook bison.
Ground Bison Burgers
First, I grilled it as ground bison – in burgers. Bison often appears darker than beef. The burger patties I made were a beautiful, rich red color thanks to the mineral-rich nature of game meat. I cooked bison patties along side typical beef patties (80/20 grain fed). The uncooked beef was a bit more grey. But when cooked they really looked the same.
Cooking bison as ground meat is essentially the same as ground beef. The flavor is a bit more robust and rich. I saw on the website that The Honest Bison also offers pre-pressed bison patties as well as 90/10 ground bison. 90/10 may be too lean for what you want in a burger. The standard "ground bison" I grilled(I think it was 80 percent lean or 80/20) was perfect. I just added Montreal steak seasoning and grilled the same as the beef. If you are a fan of a rare internal temperature on your burger cook the bison just as you would beef. Bison does cook differently with streaks and roasts… more on that in a bit.
How Bison tastes vs Beef
The flavor of bison was really good for burgers. Just slightly different then the beef burgers. Slightly.
There was what I would call a grass fed flavor (mostly with the brisket and the ribs) but with the ground bison I could barely discern a difference from beef. And I could just slightly notice a bit of a wild flavor on occasional bites as if it was from different flecks in the grind. Just enough to know it was something different.
Cooking Bison Short Ribs
Bison ribs are something BBQ fanatics will enjoy cooking. If you are looking for something a little more exotic (but not too exotic) this is great for a grill and smoker. The typical cut is bison "short ribs." These are like "English style" beef ribs where the bones are cut into three to four inch segments.
With the look of the animal, I had envisioned GIANT "Fred Flintstone" bones. When you look at the BISON… It's hard not to marvel at the massive chest and the stocky front half of the beast.
But in reality the bison ribs looked (and cooked) a lot like beef back ribs. I noticed the color being a bit darker then beef before cooking.
Again game mammals are true "red" meat. The protein, myoglobin, holds oxygen in the muscle, and gives the meat a darker color.
I also noticed that my bison ribs have less fat then beef short ribs. But they were really similar in size and shape… I cooked them on the wood pellet smoker like beef ribs.
Bison ribs are best when slow-cooked or braised until the meat falls off the bones. So I smoked for 3 hours and wrapped them with foil and a bit of apple juice to keep them moist. Then, I continued to cook at 225, wrapped in foil for two or three more hours. I finished them, unwrapped, and sauced them up for the last hour over direct heat.
It's also good to spray or "spritz" the meat to keep things steamy before you wrap it in foil. This keeps is moist and enhances the smoke ring. Just beware of opening your smoker too often in colder weather (it can really lower the temperature in the smoker and extend cook times).
I enjoyed the beefy yet wild taste of the bison. These are also very similar to their beef counterpart. But because they are more lean you will really want to marinate (or inject with a marinade) and wrap with foil to keep them from drying out. Sauce as you would with beef ribs.
Trim off the silverskin
When I cook beef I try not to over trim off the fat – but, when cooking bison, you will want to use a sharp knife and get all the excess silver skin and membrane on the top and back of the bone. I, mistakenly, did not remove some of the top layer and I really should have. The white membrane looked like it was a layer of fat (on the meaty side of the rib bone) so I left it alone. I discovered that's where a lot of the gamey flavor came from. After cooking I was still able to remove the top membrane and it eliminated the stronger flavor.
Nonetheless, I always pull the membrane of the back side of the ribs anyway (beef and bison is tougher than pork). Here's my video on how you can pull the rib membrane more easily.
Also, to minimize gamey flavors in wild meats like bison, venison, elk and boar, some hunters also eliminate any excess blood. Other marinades for game meat call for an overnight soak in a buttermilk solution with salt or vinegar, and sugar or other spices as desired.
Cooking Bison Brisket
Lastly, Bison Brisket was a cut I was really looking forward too.. because my thinking was it would be massive like the whole packer beef briskets Im used too… and the bison was definitely leaner… you THINK looking at the bison it would be a meaty brisket because the meat comes from the chest… but I it's really too lean for my taste on the smoker… you'll want to smoke it for a couple of hours… then wrap it and continue to braise it in it's own juices… I would even recommend using slow cooker after you get a couple of hours of smoke on it.
Grass fed bison brisket is just like grass fed beef brisket. They are better for other cooking methods. It's not going to have the thick fat layer that a lot of pit masters love about grain fed beef brisket. If you're looking for a fatty brisket experience you may want to try a different cut.
Cooking Bison is a great conversation starter
In summary, I recommend you give The Honest BISON a try. It's just fun to offer it up as something adventurous for friends. Check out their latest offer here (20 percent off).
Top reason I think it's just exotic enough for "all American" tastes. It's just such a cool animal. By the way I also love their logo at The Honest bison. It pays tribute to how majestic these animals are.
If you are having a cookout with friends its not too much of a stretch to get them to try something "wild." Cooking bison is a unique conversation starter too. I don't think anyone would get upset trying it thinking it was beef and not knowing it was a different animal… Yeah that happened to me once with Rocky mountain oysters…lol.
Many Americans love cooking Bison and Elk because It's a healthier meat than grain fed beef. I mentioned the Omega 3s… on top of being healthy… whole 30 and Keto fans love bison and grass fed meat. Honest Bison treats the "meat" with respect: their holistic approach to ranching helps replenish the lands naturally and allows the animals to roam freely in large, grass pastures. Always treated humanely (in life and the slaughter process).
Next – the wild and rich flavor is something really satisfying… and in brief you cook certain cuts a little differently.
Tricks for cooking bison
When you veer off the basic barbecue path with bison, you can keep these tips in mind for best success:
Trim off all visible silver skin and rib membrane
Marinate: I used some cider vinegar in a marinade for the ribs that helps mellow the wildness.
Other ways to boost moisture (that I didn't do here but you may want to try) include basting, and larding or barding (inserting slivers of fat or wrapping in bacon).
Also, the company sends along an insert thet they use to advise you generally of how to treat BISON… as well as other leaner game meats… they say FIRST… cook for one third of the time and temperature of beef… and that's maininly referring to the steaks and cuts you will serve rare… NOT the ribs and brisket I tried… so make that distinction.
One third of the time and that would be the "doneness/internal" temperature of beef. I think that's hard to understand, but think of it as approximately one third of the "doneness temperature of BEEF in degrees. Beef is rare with a red center at 125 degrees Fahrenheit. Beef is Medium at 145.
So for the steaks and cuts like bison tenderloin they suggest
Rare being 115 degrees F to 120 degrees F
Medium Rare being 121 to 125 degrees F
And Medium cooked BISON should have an internal temperature between 126 degrees F and 130 degrees F.
Lastly, remember to Rest bison steaks and roasts as temperature will continue to rise while resting. So you should remove the bison from heat when thermometer registers 5-10°F lower than desired doneness.