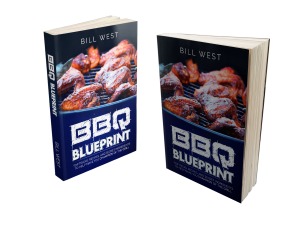 Do you want to impress family and guests with your barbecuing skills?
There's nothing better, on a warm and sunny afternoon, than meat slowly cooking on a barbecue.  Gathering family and friends around to share in your masterfully prepared feast is one of the great pleasures of summertime.
Now also as a (FREE) Audiobook HERE
Do you want to be able to cook perfect barbecue, every single time you light the charcoal?
We reveal the essential Pitmasters recipes and techniques most used by both backyarders and competition teams. This is more than just a cook book. Sometimes the secret is more in the technique than the ingredients.  Many of us just throw items onto a grill and hope for the best.  With one click you'll have easy to read, step by step, tricks in time to grill tonight, with The BBQ Blueprint.
Where can you find the secrets of successful barbecuing?
In this innovative barbecue book we go behind the scenes at the world's most popular BBQ pits. You'll read details about Scott's BBQ and see inside the smoke house. Plus, learn about the underground charcoal roasting chutes at Charlie Vergos' Rendezvous in Memphis (and get secrets behind the recipes).
We help you to understand the tips and techniques required for perfect food, including:
Over 50 fool proof and tested barbecue recipes
Dozens of crisp foodie photos and illustrations
The easy step by step guide to whole hog cooking
A curated collection of regional sauce recipes to return to for a lifetime
Learn the guaranteed Pitmaster's trick for a beautiful smoke ring
Understanding Dutch Oven temperature control
Time savers, tricks, secrets and shortcuts
If you are venturing into new and unfamiliar areas of live fire cooking you will not be alone! Author Bill West and The BBQ Blueprint will be with you every step of the way to help walk you through the entire delicious and fun process.  It's a book about learning, enjoying and above all, sharing.
Click below and get The BBQ Blueprint now and you will also get exclusive access to our downloadable cook's log for home and competition, a BONUS Sauces and Sides eCookbook, plus an additional free PDF pro competition gear checklist.