FINALLY it's out in the wild!  I love the way my wood pellet grill smoker cookbook turned out!
I had been talking with a lot of readers about what kind of BBQ they want to learn about and I was surprised to get a few suggestions for EASY smoker recipes for goodies like ribs, beef jerky, and specifically wood pellet grill smoker recipes. It all clicked. I LOVE using my wood pellet grill.
"The Ultimate Wood Pellet Grill Smoker Cookbook" is available for order now HERE on Amazon!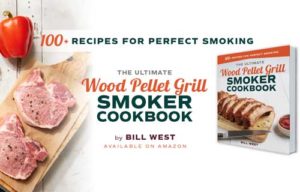 About nine years ago I got my first look at a pellet fired smoker and I was AMAZED! "This is the ultimate BARBECUE TRICK!," I thought.  Years later, it's now my primary way to cook on the patio.  I'm lazy. It's easy. The way the best wood pellet grills cook is totally cool:
I get to use live fire and wood with safe set and forget ease.
I've done a few videos with the pellet grill and have loved testing all the recipes.
My buddies in competition BBQ win big contests with wood pellet grills.  They are compliant with rules.
So, I worked hard to break down and write down all the "essentials" about Pellet Power BBQ. Then, my wife, MJ and I had a blast putting these recipes together and getting them just right. We can't wait to share the SMO Fried Chicken recipe in the book. It is now one of our all time favorite recipes.
Keep checking my socials (and here) and I'll continue to share recipes, tips, sneak peeks, and more.
It's available now on Amazon HERE – "The Ultimate Wood Pellet Grill Smoker Cookbook."