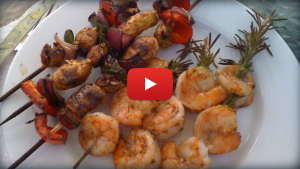 In a previous post we suggested using ba
sil twigs as a nice addition to the smoker to add that "extra something" to your grilled meat. Here's another barbecue trick.
You can use long, strong, rosemary twigs as skewers for your next elegant kebab.
This is a great reason to grow a large rosemary bush in your garden. They actually look and smell great and, in the right climate, they stay green most of the year. They even flower. I've seen many waist high rosemary bushes at restaurants and friend's homes that produce great skewers.
Just strip off the leaves, except for a couple of inches at the tip. They add a rustic look and great flavor to the meat and veggies.
Twigs for skewers could work with many other herb plants. Experiment!