By Lisa Thomas
A slab of high-quality meat might be the archetypal barbecued dinner, but there's plenty of room on the grill for other foods. Almost all vegetables (and many fruits) are delicious as grilled veggies and fruit, and they're the perfect side dish – or even main course – for hot summer days. They're also healthy and quick to prepare, leaving you with more time to enjoy the fruits of your labor with a lazy, midsummer meal. So whether you want to make some classic foil-packet potatoes or grill mango for a salad, fire up and get ready for a treat.
Potatoes And Other Root Vegetables
Once reminiscent of comfort and home cooking, "meat and potatoes" now sounds boring, flavorless, and unhealthy. Yet potatoes need not be boring, especially when grilled, and the low-carb bandwagon misses the point that "it's not that carbohydrates are fattening, rather that people eat too many of them," according to Dr. Jean Harvey-Berino of the University of Vermont. Potatoes and other root vegetables can be prepared in a variety of delicious ways, and eaten in moderation they're a good source of vitamins and minerals. Foil-packet potatoes are a classic for a reason, but sometimes changing up the ingredients can make them seem brand new. Try using other root vegetables like sweet potato, carrot, celeriac, or beets, or experiment with marinades and sauces. Celeriac in particular goes well with Asian-inspired flavorings like lime salt and peanut sauce, while beets can be served with their wilted greens. Because this style of grilled veggies and fruit is so easy, it's simple to try out new ideas!
Root vegetables can also be cooked directly on the grill. This method can take a few more steps, depending on the vegetable, but it also gives the finished dish a fantastic flavor. Aside from carrots, most starches should be cut into half-an-inch thick slices (or equal-sized wedges) before grilling, and most benefit from a quick simmer so that they don't end up perfectly grilled but undercooked. Coat your veggies in a thin layer of oil – some marinades also work well for this – and then get to grilling. Take them off the grill when they still have a slight bite to them, as they'll keep cooking once they're off the heat, then serve them as-is or as part of a grilled salad.
A Feast Of Grilled Veggies
It's easy to eat your veggies when they've been grilled, giving them a delicious smoky flavor and a variety of textures in each bite. This isn't about soggy, overcooked broccoli – these veggies can make for a real feast. By considering water content and structural integrity before grilling, it's possible to make your least-favorite vegetables into your new favorite side dish. As a rule, the dryer and more compact a vegetable is, the easier it is to grill. Cauliflower, for example, is slightly easier to grill than broccoli, and grilled zucchini is delicious while grilled cucumber is a (quite literal) flop. However, very compact veggies take longer to cook completely, so either precook them before grilling or enjoy the crunch. (Half-done grilled vegetables are particularly delicious in summer salads with a light dressing.) Vegetables with high water content, like peppers, should be grilled for short lengths of time in order to keep them from collapsing or burning.
Some vegetables can be grilled as-is, but most others do better when cut into chunks or florets. These should be large enough that they don't fall between your grill's slats; if smaller chunks are needed, use a kebab skewer or a grill pan to keep them safe. If you haven't used a marinade for your veggies, dry them well and oil them lightly before grilling. Different vegetables cook at different speeds, but most should be done within five to ten minutes. Keep a close eye on them, and remember to turn them frequently so that they don't scorch.
Refreshing Grilled Fruit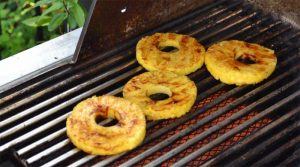 Meat and fruit have been served together since before the dark ages, and there's no sense in arguing with history on this count. The sugars and acids in fruit cut through the richness of meat, waking up your taste buds and allowing you to fully appreciate the range of flavors in a meal. Grilled fruit is also the perfect desert on a hot summer day: either serve as-is, toss in a warm fruit salad, eat with ice cream, or drizzle with white chocolate sauce. Most fruits can be grilled, but citruses and berries aside from strawberries are rarely worth the effort.
When grilling fruit (aside from apples and pears, which can be cooked), the goal is simply to warm them while adding a subtle smoky flavor. To ensure this result, start with a clean grill and a low flame, as well as thick fruit slices which have been coated with a very thin layer of flavorless cooking oil. (Fruits can also be grilled as kebabs.) Err on the side of caution when deciding how long to grill them for, as fruit sugars burn easily and overcooked fruit can fall apart.
Summer is a time of excess: lots of fun, lots of sunlight, and lots of beautiful fresh grilled veggies and fruit. By taking advantage of this harvest, you can grill a range of healthy, easy meals all summer long.