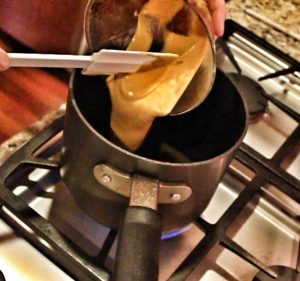 In the hunt to find a traditional mustard based sauce that South Carolina is known for… I came across this notable tangy mustard sauce that Pitmaster Jack Waiboer called ' "The Best mustard sauce" he's ever had.   He passed this recipe along and we plugged it into the Barbecue tricks test kitchen and decided it is indeed a winner.
The finished color ends up more rusty than mustard yellow but the mustard flavor cuts through nicely.  The last moment addition of the butter and the soy sauce adds a bold richness that sets it a part from our traditional South Carolina Mustard Sauce.  It deserves a category of it's own.
Also the use of both white pepper and black pepper gives the sauce some additional heat.    We used freshly ground black pepper for our test batch but if you are heat sensitive stick with standard issue black pepper.  It really makes a difference.
Try this Spicy Mustard BBQ Sauce recipe the next time you are pulling pork.  It's also flavorful enough to use as a dipping sauce.
Spicy Mustard BBQ Sauce Recipe
Use this rusty colored kicked up mustard sauce for your next pork or chicken dish for a hint of Carolina with kick of spice.
Ingredients
2/3 cup mustard
1/2 cup sugar
1/4 cup brown sugar
1 cup cider vinegar
2 tablespoons chili powder
1 teaspoon black pepper
1 teaspoon white pepper
1/4 teaspoon cayenne
5 drops Tabasco sauce
1/2 teaspoon soy sauce
2 tablespoons butter
Instructions
Mix all but soy and butter in a sauce pan and simmer for fifteen minutes. Add Soy and butter to finish and serve.
More Recipes at BarbecueTricks.com